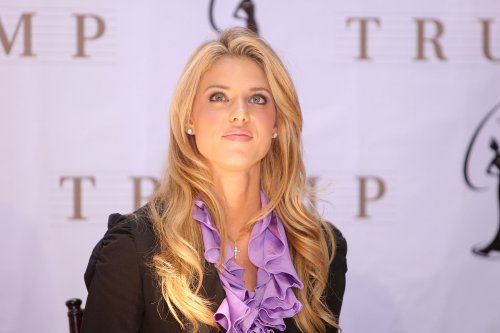 From the moment Carrie Prejean opened her mouth to just say "No" to gay marriage, some Republicans have viewed the former beauty queen as the next Sarah Palin. Indeed, according to Prejean's new memoir, Palin has reached out to her and, in turn, the onetime Miss California views the onetime Alaska governor as a heroine.
(For an interesting Palin/Prejean side-by-side, see Michael Fullilove's Financial Times piece, "Palin And the Sex-Tape Beauty Queen Are Spookily Similar.")
Yesterday TMZ spoke with Utah Republican Congressman Jason Chaffetz who, despite the firestorm swirling around Carrie Prejean's self-pleasuring sex video(s), insists she's GOP electoral timber.
Prejean, Chaffetz told the celebrity site, "has the ability to draw crowds and if she has a strong message to go with that, who knows what she can do? She has star power which can open doors."
Frightwing pundit Ann Coulter, who appears with Prejean in the 2010 Great American Conservative Women Calendar, has been quick to blame Prejean's current predicament on "these pornographers" and "broken promises by the media."
"She came from a broken family," Coulter explained to the Washington Examiner, "and girls who grow up without their fathers are often going to be found to be a little more promiscuous than the average girl. And I hope being a Christian will help her get over that."
Apparently not all conservative groups are gulping down the Coulter Kool-Aid, however.
According to several sources, including Californians Against Hate, the anti-gay marriage National Organization for Marriage, which until recently touted the "Carrie Effect" and Prejean as "the future of our movement, and the future of America," removed Prejean from its Web site Monday.
"The whole episode is weird, sad and ugly," NOM prez Maggie Gallagher told LifeSiteNews.com, a family values site that, among other things, decries UNICEF's fundraising on Halloween.
Even so, Gallagher could not help but point her blame finger away from Prejean.
"No one," Gallagher said, "should face this kind of invasion of their privacy simply because they believe marriage is the union of husband and wife."