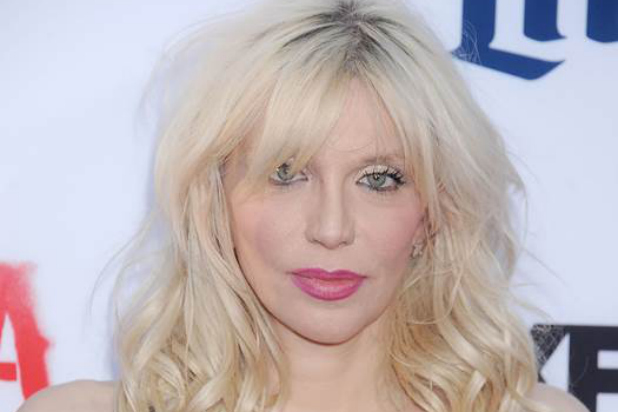 Courtney Love says she was attacked in Paris on Thursday by what she called a "mob of taxi drivers" picketing car service Uber.
Love, who was in an Uber vehicle at the time, said on Twitter that her car's operator was held hostage for an hour during the scary incident. The Hole frontwoman claimed the vehicle was "ambushed" by picketers who slashed the tires and beat the exterior with metal bats.
Later, Love tweeted that she had to pay two guys with motorcycles to sneak her away from the scene, while the angry group hurled rocks at them. Two cops that witnessed the incident did nothing, she added.
Love personally called out French President Francois Hollande in one of her desperate tweets: "François Hollande where are the f–king police??? Is it legal for your people to attack visitors? Get your ass to the airport. Wtf???"
Traditional taxi drivers in the France capital city are protesting Uber, as the car service has been eating away at their business.
"I'm safer in Baghdad," Kurt Cobain's widow stated. "I'm scared out of my wits."
Also Read: 'Power' Creator Courtney Kemp Agboh Signs Overall Deal With Starz
Read Love's tweets about her ordeal:
Dude @kanyewest we may turn back to the airport and hide out with u.picketers just attacked our car #ParisUberStrike pic.twitter.com/MtanurybOO

– Courtney Love Cobain (@Courtney) June 25, 2015
they've ambushed our car and are holding our driver hostage. they're beating the cars with metal bats. this is France?? I'm safer in Baghdad — Courtney Love Cobain (@Courtney) June 25, 2015
François Hollande where are the fucking police??? is it legal for your people to attack visitors? Get your ass to the airport. Wtf???

– Courtney Love Cobain (@Courtney) June 25, 2015
paid some guys on motorcycles to sneak us out, got chased by a mob of taxi drivers who threw rocks, passed two police and they did nothing — Courtney Love Cobain (@Courtney) June 25, 2015
how on earth are these people allowed to do this? the first car was destroyed, all tires slashed… https://t.co/lWuFRMG6I5

– Courtney Love Cobain (@Courtney) June 25, 2015
we got out after being held hostage for an hour thanks to these two guys. I'm scared out of my wits…. https://t.co/cAOELz463U

– Courtney Love Cobain (@Courtney) June 25, 2015