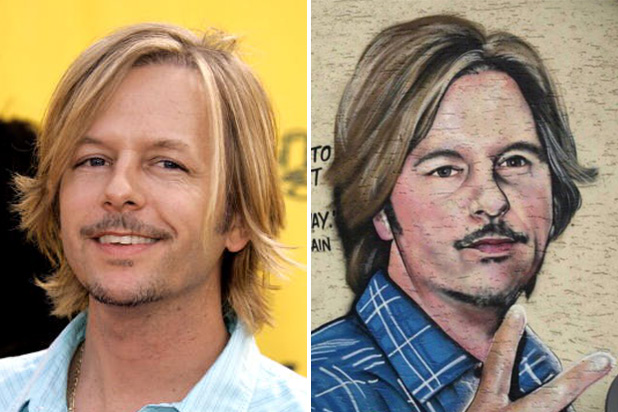 David Spade wants fans to know he has seen that Kurt Cobain mural that looks more like the comedian than the Nirvana frontman who died in 1994 at age 27.
"Everyone is sending me this," Spade tweeted on Friday.
He linked to a photo of the mural by Australian-born street artist Lushsux that he painted earlier this week on the outside of a building in Linz, Austria.
Also Read: 27 Club: Stars Who Died at Age 27, From Jimi Hendrix to Kurt Cobain (Photos)
To further add to the confusion, Lushsux's mural includes a quote (wrongly) attributed to Cobain but that instead comes from Neil Young: "It's better to burn out than fade away."
That quote was cited by Cobain in his suicide note.
Also Read: David Spade Recalls When Phil Hartman Threatened Rob Schneider: 'I'll Put a Bullet in Your Head'
Lushux's piece is referencing a popular internet meme, in which people wrongly-attribute quotes to influential individuals alongside a picture of a completely different famous individual.
Spade's upcoming memoir "David Spade Is Almost Interesting" hits stores on October 27.