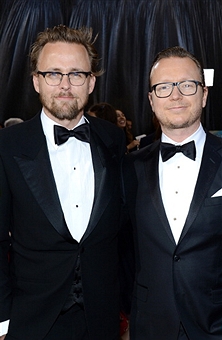 Hot off their acclaimed foreign film "Kon-Tiki," directors Joachim Rønning and Espen Sandberg are in final negotiations for the coveted job to direct "Pirates of the Caribbean 5" for Disney, TheWrap has learned.
Johnny Depp is set to reprise his beloved, Oscar-nominated role of Capt. Jack Sparrow in the sequel, which will be produced by Jerry Bruckheimer. Jeff Nathanson wrote the last draft of the script.
Rønning and Sandberg recently dropped out of Legendary's "Spectral" as it became apparent the "Pirates" job was theirs to lose. They beat out director Fredrik Bond ("The Necessary Death of Charlie Countryman") for the sought-after gig.
Rønning and Sandberg are talented filmmakers who were pursued by several studios following the success of "Kon-Tiki," which was nominated for this year's Foreign Language Oscar and also set on the water. Disney is likely excited to be working with two up-and-coming filmmakers who are capable of delivering epic visuals.
On the other hand, while "Pirates of the Caribbean 5" is sure to be a guaranteed box office hit, the big-budget blockbuster seems beneath Rønning and Sandberg's potential. Do we really want our best foreign filmmakers coming to America to churn out mindless sequels? It would've been nice to see the "Kon-Tiki" duo launch their own franchise or try their hand at original material, but the lure of Disney dollars proved impossible to resist.
Rønning and Sandberg are repped by UTA.