Magic Johnson, Peter Guber and the other new Dodgers owners will convene on Monday to discuss the team's future business strategy, TheWrap has learned.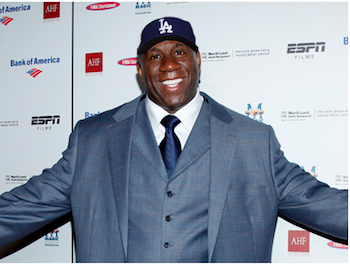 The strategy session comes ahead of a news conference with the new owners and outgoing owner Frank McCourt later next week, according to two knowledgeable individuals.
A spokeswoman for Guggenheim Partners, the lead investor in the Dodgers deal, declined to comment.
As TheWrap has previously reported, the business strategy mainly involves the team's television rights in the wake of buying the team for a record $2.15 billion last week.
The acquiring group, called Guggenheim Baseball Management, includes basketball legend Johnson; Guber, Mandalay Entertainment CEO and co-owner of The Golden State Warriors basketball team; Guggenheim Partners' CEO Mark Walter and president Todd Boehly; and Bobby Patton, who operates oil and gas
properties among his investments.
The television rights could go anywhere from Fox, the current rights holder, to the creation of a new regional sports channel devoted to the baseball team.
Also Read: Magic Johnson Needs Big TV Money to Make $2.15B Dodgers Deal Pay Off
In addition, they also must sort out other parts of the operation — whether to renovate the stadium, how to handle parking, land rights and marketing.
Stan Kasten, former president of the Atlanta Braves, is expected to take over day-to-day operation of the club.
Johnson and Stan Kasten, who will oversee baseball operations, hinted they might undertake stadium renovations in an interview with the Los Angeles Times.
Still, TV rights are far and away the most important. The owners could re-up with Fox, but most experts seem to think the Dodgers would want far more control over the team's media future.
Given the potential of a legendary baseball franchise in the nation's second biggest media market, the owners will either want to start their own regional sports network or make a deal with one that gives them a great deal of equity in it.
"At some point they will want to have ownership over their own sports network," Daniel Durbin, director of USC's Annenberg Institute for Sports, Media and Society, told TheWrap. "Long-term financial stability in sports today depends on owning your own content and producing content for your own network as well as for other networks."
Durbin listed the New York Yankees and San Francisco Giants as examples of teams that turned TV networks into profit machines.
Though most experts view the price paid for the Dodgers as exorbitant, few doubt these new owners ability to make money. Guggenheim is an investment bank with $125 billion in assets and Johnson, whose financial investment is relatively minimal, has been a financial dynamo since his basketball career ended.
Meanwhile, Guber is a legendary Hollywood producer of such classics as "Rain Man" and "Batman." His career of late has focused heavily on sports, with his interest in the Warriors, and a project to build a sports arena.