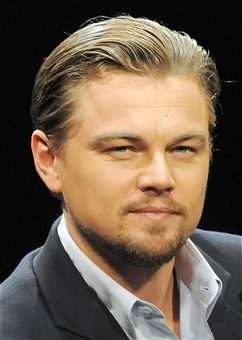 Get ready for another Oscar season centered around The Myth of Clint Eastwood.
Leonardo DiCaprio is in early talks to star in "Hoover," the director's epic drama about FBI director J. Edgar Hoover that Oscar-winning "Milk" screenwriter Dustin Lance Black has already written the script for, according to Deadline. Hoover was most recently played by Billy Crudup in Michael Mann's "Public Enemies."
I'm not quite sure what to make of this announcement. On one hand, DiCaprio is a truly phenomenal actor, and if he can pull off playing a character as complex as Howard Hughes in "The Aviator," then surely he has the chops to play the equally complicated Hoover.
On the other hand, I'm growing a little weary of DiCaprio's dark sensibilities. Would it kill him to lighten up a little? Can't he do a comedy with Judd Apatow or someone of similar talent? I remember reading a script by "How I Met Your Mother" creators Carter Bays and Craig Thomas called "The Fix-Up" that DiCaprio would be perfect for. The closest DiCaprio has come to comedy has been Steven Spielberg's "Catch Me If You Can," which came out eight years ago and didn't exactly make my cheeks sore from laughing.
Personally, I'm waiting for DiCaprio to man up and star as a doctor/hitman in "Beat the Reaper," Josh Bazell's awesome debut novel that New Regency optioned last year as a star vehicle for the actor.
Oddly enough, DiCaprio has been so busy working with director Martin Scorsese that he hasn't had a chance to work with Eastwood before. DiCaprio's "Departed" co-star Matt Damon earned a completely undeserved Oscar nomination for his role in Eastwood's "Invictus," and he re-teams with the 79 year-old filmmaker on "Hereafter," which is currently in post-production. "Hoover" moved to Warner Bros. after originating at Universal, which hasn't had much luck with adult dramas of late, including Eastwood's own fact-based crime drama "Changeling."
Imagine's Brian Grazer, Eastwood and his Malpaso partner Rob Lorenz will produce the Warner Bros. picture, which starts production later this year.