Following its box office success with "Pitch Perfect 2," Elizabeth Banks and Max Handelman's Brownstone Productions is expanding with the hires of Alison Small and Renate Radford as senior VPs of film and television, respectively.
Brownstone's diverse slate includes feature film projects at multiple studios as well as television and digital collaborations with Netflix, Hulu and Paramount Digital.
As senior VP of film, Small (pictured left) will oversee Brownstone's growing film division, which is based at Universal where Brownstone has a first-look film production deal. Small was previously VP of production at Paramount Pictures and Paramount Insurge.
At Paramount, Small brought in and oversaw "Project Almanac" and also worked on "World War Z," "Anchorman: The Legend Continues," "Teenage Mutant Ninja Turtles" and "Star Trek Into Darkness." Small also co-created AFI's Executive Circle, a group of female leaders acting as mentors to the Directing Workshop for Women.
Radford (pictured right) will serve as senior VP of television for the company, which has a first-look deal with Warner Brothers Television. She comes to Brownstone from Jason Winer's Small Dog Picture Company at Fox, where she served as head of development.
Radford began her career at NBC where she worked for 13 years at both the studio and the network. As senior VP of comedy at NBC, she most recently oversaw the development of the pilot and series for "About a Boy," "Undateable," "Go On," "BFF" and "Perfect Couples."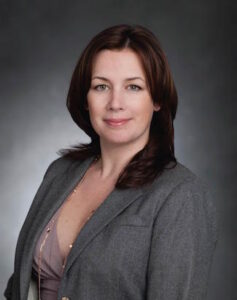 "Max and I are thrilled to be taking our film and television business to the next level, and Alison and Renate will be instrumental in achieving that goal," said Banks.
Brownstone is best known for its hit "Pitch Perfect" franchise, as Banks and Handelman first optioned the book by Mickey Rapkin that went on to inspire the movie. "Pitch Perfect 2," which was also directed by Banks, opened atop the box office to over $69 million domestically (the biggest opening for a musical movie ever) and has grossed over $283 million worldwide to date on a $29 million budget. Universal recently announced it will release "Pitch Perfect 3" on July 21, 2017.
Banks is also attached to direct Universal's "Red Queen," which is based on the bestselling HarperCollins novel and Brownstone would produce with BenderSpink.
Elsewhere, the company is currently working with Lionsgate on two feature projects. The first is based on the cult hit "White Girl Problems" about a socialite determined to show that even rich girls deserve sympathy. The other is an adaptation of Ally Carter's novel "Heist Society," about a woman who's from a family of thieves. In development at TriStar is "Dirty Rush," based on the comic novel about sorority life.
On the TV side, Brownstone is currently in development with HBO on a biopic about tennis icon Billie Jean King, which will star Banks and Paul Giamatti.
This summer, Brownstone's first digital comedy series, "Resident Advisors," premiered on Hulu. The series was produced in collaboration with Paramount Digital. The company also produced Disney's 2009 sci-fi feature "Surrogates" starring Bruce Willis and Rosamund Pike.
Banks and Handelman are represented by UTA, Untitled Entertainment and Ziffren Brittenham.