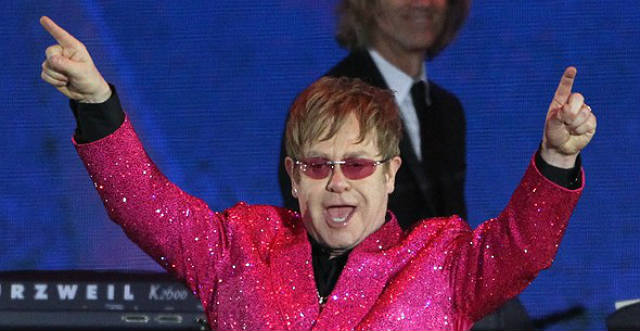 Saturday night's all right for fighting — and apparently Thursday night is OK for clashing, too.
Elton John's show in Las Vegas on Thursday got a little tense, as the "Your Song" singer walked offstage after fans apparently got a little too rambunctious for his taste.
As captured in a video published by TMZ, John was performing  "Saturday Night's Alright for Fighting" surrounded by fans on stage when he stood up and walked off mid-song.
Also Read: Elton John Gets Struck in the Face by Mardi Gras Beads During Vegas Performance (Video)
According to one audience member captured in the video, one fan onstage ruined the performance by repeatedly trying to high-five John.
"I saw him say f— off to somebody," another audience member noted.
John eventually came back onstage to continue the concert — and to declare, "No more coming on stage on 'Saturday Night.' You f—ed it up."
Also Read: Elton John Blasts GOP Lawmaker Over HIV 'Quarantine' Comments
John's stint in Vegas has not been without its hiccups. Last month, the singer — who recently announced his final tour — was struck in the face by Mardi Gras beads. John was performing — yup — "Saturday Night's Alright for Fighting" when beads flew over his piano and hit him right in the face.
The singer then checked his teeth while security fumbled around him, and the shocked John took some time to compose himself before launching back into the song.
Maybe he should consider cutting that tune from the set list. It seems to get people riled up.