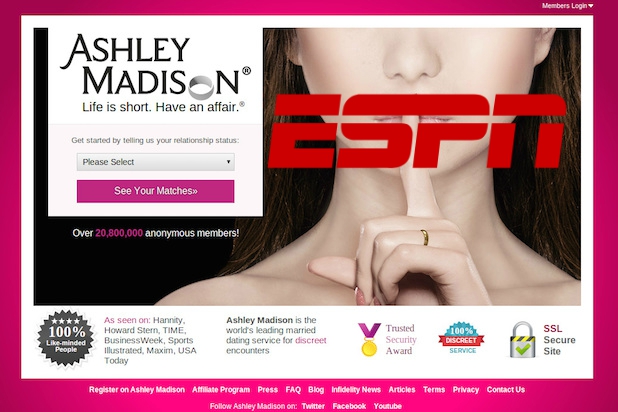 Clearly it gets lonely in Bristol, Conn. More than 100 ESPN employees signed up for cheating website AshleyMadison.com, a recent investigation found.
A Deadspin report revealed that 101 employees from the Worldwide Leader in Sports joined the site from work, 39 of which even used their ESPN email addresses. The remaining potential cheaters were found using an IP Address search that targeted office computers.
The website found that "dozens" of accounts they found belonged to "highly influential executives, vice presidents, and producers," as well as "powerful senior finance directors" and "marketing higher-ups" — and even an assistant to former company president George Bodenheimer.
Also Read: Josh Duggar Checks Into Rehab Following Ashley Madison Controversy
Deadspin found that 20 percent of the ESPN employee accounts it uncovered belonged to women. That's a much higher percentage of female users than the site is used to: about five percent of all Ashley Madison users are women.
All that said, fewer than 20 percent of those who signed up from ESPN's offices ever actually paid the illicit affairs website money. However, one ESPN producer — whose profile specified that he is looking for a "cougar" — spent more than $2,000 on the service, according to leaked credit card data.
ESPN had no comment on the matter.
Also Read: Reality Stars' Husbands Caught Red-Handed in Ashley Madison Leak
On Tuesday, it was revealed that the husbands of reality stars Kristen Taekman and Nicole "Snooki" Polizzi were also registered users of the scandalous site, which was hacked, resulting in the leaked information. Last week, disgraced former "19 Kids and Counting" star Josh Duggar was also revealed to be a user of Ashley Madison's services. On Wednesday, the admitted child molester entered a longterm rehab treatment facility.
"His wrong choices have deeply hurt his precious wife and children and have negatively affected so many others," read the statement posted to the Duggar family website and attributed to Jim Bob and Michelle, the parental unit at the head of the "19 Kids" family.
Duggar, a family values advocate, admitted to infidelity last week, saying in a statement that "I have been the biggest hypocrite ever."