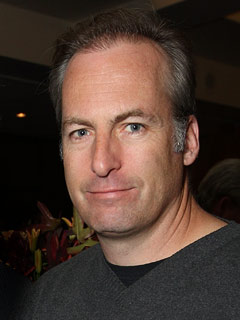 EXCLUSIVE
It has been four years since Bob Odenkirk directed a feature film but the "Mr. Show" veteran is preparing to step behind the camera again for the indie comedy "Annie Jenkins: A Not Very Romantic Comedy," Odenkirk has told TheWrap.
While Odenkirk did not disclose details of the project, he did reveal that he has an impressive cast lined up, including Krysten Ritter, Rainn Wilson, Dennis Farina and longtime collaborator David Cross.
Odenkirk cautioned that none of the actors have formally signed on yet and are not officially attached at this point, but they've all read his "Annie Jenkins" script and agreed to play parts in the picture, which is still searching for its male lead.
Odenkirk and producer Mary Jane Skalski ("The Visitor") are currently in the midst of finding financing for the film, which Odenkirk expects to put into production later this year.
The filmmaker still holds out hope for the long-gestating adaptation of Arthur Nersesian's cult novel "The F**k-Up," which had Jesse Eisenberg, Juliette Lewis and Michael Shannon attached to star at various points during development. Originally announced in 2004, the project was a labor of love for Odenkirk, and while he wasn't able to pull the financing together before his option on the book expired, the novel's new rights holders could still use his well-received screenplay.
Odenkirk previously directed "Melvin Goes to Dinner," "Let's Go to Prison" and "The Brothers Solomon." Fortunately, fans won't have to wait for "Annie Jenkins" to see Odenkirk's next directorial effort, as he contributed a segment to the highly-anticipated omnibus comedy "Movie 43" from producers Peter Farrelly and Charles B. Wessler.
As far as Odenkirk's acting career is concerned, HBO (which aired "Mr. Show" from 1995-98) has kept him busy with a recurring role on the last season of "Entourage" and voice-over work on "The Life & Times of Tim." The talented multi-hyphenate will continue his hot run on TV by reprising his character of Saul Goodman on AMC's "Breaking Bad." On the feature side, Odenkirk recently appeared in the action comedy "Operation: Endgame" and he has also joined the cast of the indie comedy "The Giant Mechanical Man."
Odenkirk is represented by WME and Odenkirk Provissiero Management.