The online streaming wars are about to ramp up in a major way, with Facebook set to debut "Watch" — its new content platform — on Thursday, TheWrap has confirmed.
More than 30 original shows from a myriad of media partners will be featured on the Watch tab. Content from Thrillist, Vox, and sports leagues like the NBA and MLB will be included in the social juggernaut's maiden voyage into programming. Watch will be available on mobile, desktop and Facebook's TV apps.
The launch won't be available to all of Facebook's 2 billion users immediately, however. Watch will be limited to a select amount of users in the U.S. at first, and will continue to expand in the weeks ahead. Facebook will be premiering a number of its originals on Aug. 28, but a Facebook spokesperson declined to share which shows in particular will lead off.
Also Read: President Zuckerberg? Facebook Chief Hires Clinton Pollster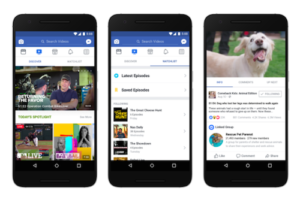 Facebook's jump into TV has been anticipated for months, with the company willing to pay up to $3 million per episode for scripted and non-scripted content. Watch will appear on the same day as Snap reports its critical Q2 earnings — another twist in the ongoing battle between the media platforms.
Also Read: Facebook Shares Rocket to All-Time High After Strong Q2 Report
Watch users will be able to comment on shows and discover new content, just as you'd expect from Facebook. Viewers can also create a "Watchlist" to keep up with shows it might have missed.
Facebook's shows will cover the full spectrum, from comedy to reality to sports. "Bae or Bail" from A&E will test couples by putting them in "terrifying scenarios," "Celeb Moms Get Real" from Time will go one-on-one with stars' parents, and "Nas Daily" will allow fans to follow the latest in the world traveler's life.