Almost as exciting as the Oscars — and far more scandalous — is always the post-Academy Awards "Fashion Police" special on E!
Co-host and executive producer Melissa Rivers was back on Monday night, along with co-hosts Giuliana Rancic, Margaret Cho and Brad Goreski, and special guest Tim Gunn.
Just like after the Golden Globes earlier this year, it was comedian Cho who delivered the most biting comments stemming from Hollywood's biggest night.
Also Read: 10 History-Making Moments From the 2016 Oscars (Photos)
However, Gunn didn't hold back his disdain for some of the most dreadful dresses of the night, and he had harsh words for his "Project Runway" colleague.
"Heidi Klum, what I want to say to you is there's a huge fashion playing field between boring and a float in a parade," he said.
"It is so '80s bridesmaid," Rancic agreed. "What the hell is going on?"
Also Read: Oscars Night Scene and Heard: Charlie Sheen at Elton John AIDS Foundation Party in T-Shirt of His Own Face (Photos)
See the bitchiest soundbites from Cho below.
Heidi Klum in purple chiffon Marchesa:
"It's really mother of the bride of Frankenstein. Tim, if this was designed on 'Project Runway,' what would you say?" "Pack your bags," was his cutting reply.
Cate Blanchett in floral Armani Prive:
"This is soft, green and impressive — like a dick pic from Kermit the Frog."
Brie Larson in custom-made Gucci:
"She may have won in 'Room' but she lost in the dressing room. That dress looked like it absorbed all the liquid in a tampon commercial."
Kerry Washington in S&M Versace:
"I was thinking this dress must come with a safe word … it is like a fabulous, asymmetrical lesbian haircut. This dress is harder to understand than Donald Trump's lead in the polls."
Lady Gaga in white Brandon Maxwell:
"It makes me want flap jacks. She took the opportunity to wear white because she can't wear it around Tony Bennett because he says 'nurse, nurse.'"
Also Read: 21 Best and Worst Oscars Moments of 2016, From Sarah Silverman to Lady Gaga (Photos)
Alicia Vikander in yellow Louis Vuitton: 
"If your pee is not this yellow, you are not drinking enough water. How many queefs does it take to inflate that skirt? Tim, don't you think she looks like the world's most beautiful hepatitis?"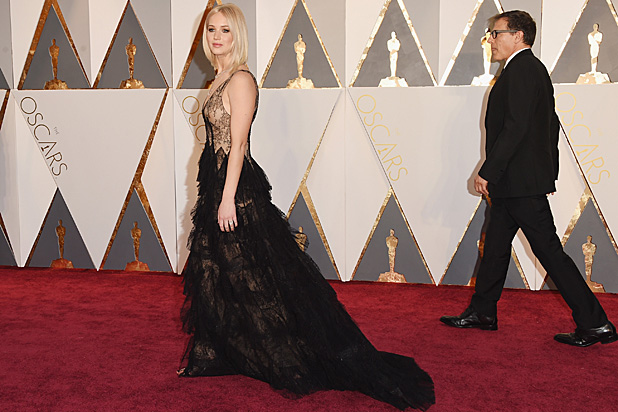 Jennifer Lawrence in lace Christian Dior:
"I love the wide open V, I haven't said that since 'Basic Instinct.'"
Olivia Wilde in Valentino's Haute Couture 2016 collection:
"It is devil in the front and angel in the back — this is what greets you when you go to lesbian heaven. I have not seen this many white lines since I walked in on Lindsay Lohan in the bathroom."
Rooney Mara in a white lace gown by Givenchy Haute Couture:
"It's like the most beautiful open casket funeral ever. You have to love a dress that has its own glory hole."