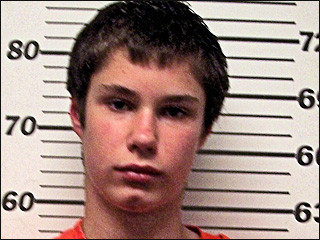 David Gordon Green ("Pineapple Express") is eyeing the story of 18 year-old fugitive Colton Harris-Moore as a potential directing vehicle, reports Variety.
Fox has acquired feature rights to Bob Friel's book proposal for "Taking Flight: The Hunt for a Young Outlaw," which is based on the author's Outside magazine article "The Ballad of Colton Harris-Moore." Gordon Green's new Mandate-based production company Rough House Pictures will produce the project, which is currently seeking writers. There are many different ways to bring this story to the bigscreen so there should be no shortage of A-List writers lining up to take a crack at this fascinating story, which I haven't been able to stop thinking about since I first came across it in January.
Since escaping from a juvenile detention center in 2008, The Barefoot Burglar, as he's come to be known, has been a suspect in more than 100 crimes, including dozens of felonies. He's stolen planes, boats and automobiles and even taught himself how to drive and fly in order to evade local authorities. Now he's wanted by the FBI and Homeland Security. The modern-day Robin Hood (the woods of Washington St. would be his Sherwood Forest) has amassed an impressive Facebook following (25,000+ fans) as a result of his criminal exploits. Time magazine even dubbed him "America's Most Wanted Teen," much to Justin Bieber's dismay.
Harris-Moore reminds me of a tech-savvy Frank Abagnale Jr., the con artist memorably portrayed by Leonardo DiCaprio in Steven Spielberg's "Catch Me If You Can." His story also brings to mind "Alpha Dog," the Nick Cassavetes film about dangerous drug dealer Jesse James Hollywood who was on the lam for years before he was arrested in 2005, a complication that threatened to derail the release of the film.
Whoever winds up directing the project has to find what makes Harris-Moore tick, and personally, the kid seems like just the kind of rebellious folk anti-hero that fits right in Gordon Green's wheelhouse. I'd like to see Fox cast a complete unknown in the part but I'll play the fantasy casting game and lobby "A Nightmare on Elm St." star Kyle Gallner for the role, since The Playlist seems to think Gordon Green's "Undertow" star Jamie Bell would be perfect for the part.
Gordon Green's Universal comedy "Your Highness" (Oct. 1) stars Zooey Deschanel, Natalie Portman, James Franco and fellow Rough House principal Danny McBride. Jody Hill and Matt Reilly are also behind Rough House, which is co-producing the second season of HBO's "Eastbound and Down" that starts filming next month. Gordon Green's next film, "The Sitter," stars Jonah Hill as a babysitter on a coke run. He also has a remake of Dario Argento's "Suspiria" among his potential projects.
Colton Harris-Moore is still at large.