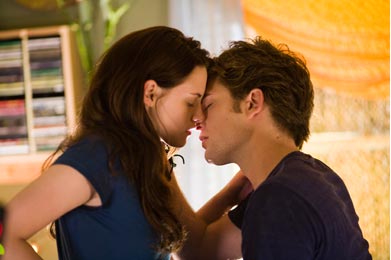 FX has purchased the rights to the first three movies in Summit Entertainment's "Twilight Saga" and has an option to broadcast the fourth.
The price tag is expected to be the industry standard of 12 percent of the movies' domestic box office gross.
The cable network also acquired the rights the recent Summit releases "The Hurt Locker," "Knowing" and "Push."
FX will get the broadcast television premiere rights to the "Twilight Saga" after the pay TV window closes. The first "Twilight" film will air in 2011, with the sequels "New Moon" and "Eclipse" airing in 2012 and 2013 respectively. The fourth installment, "Breaking Dawn," does not yet have a release date.
FX has been on something of an acquisition spree of late. It also recently bought broadcasting rights to a slate of blockbusters including "Transformers: Revenge of the Fallen," "Wolverine," and "Night at the Museum: Battle of the Smithsonian."