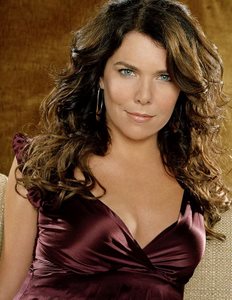 "Gilmore Girls" star Lauren Graham will play Emma Roberts' mother in Wes Craven's "Scream 4," the actress told Jay Leno last night.
Ghouls on Film first reported the casting, before Graham made her big announcement.
Additionally, Entertainment Weekly reports that Anthony Anderson ("Scary Movie" 3 & 4) and 20-year-old model Marielle Jaffe also have joined the cast of the self-referential slasher franchise
The trio joins newcomers Hayden Panettiere, Rory Culkin, Lake Bell, Nico Tortorella and Roberts, as well as veterans Neve Campbell, Courteney Cox and David Arquette.
Kevin Williamson returns to write the script, which is set in Woodsboro 10 year after the events of "Scream 3."
Graham's previous big-screen roles include "Bad Santa" and "Evan Almighty." Anderson next appears in the bird-watching comedy "The Big Year." Jaffe recently appeared in "Percy Jackon & the Olympians: The Lightning Thief."
Production begins at the end of the month in Ann Arbor, Michigan.
The Weinstein Co. will release "Scream 4" on April 15, 2011, hoping that Ghostface's knives will defeat the swords of "The Three Musketeers."