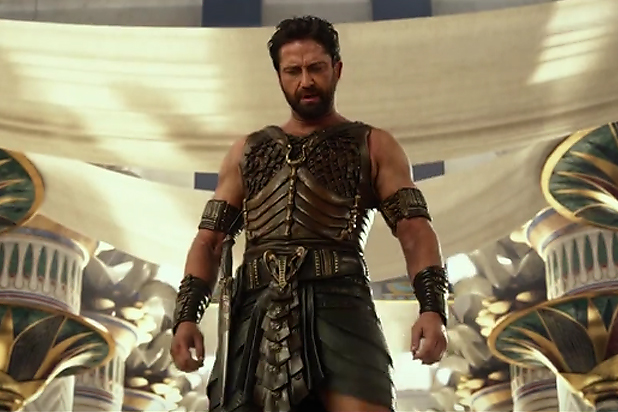 "Gods of Egypt" grossed $800,000 at the box office Thursday, looking at a $11 million to $15 million opening weekend for the fantasy film.
"Eddie the Eagle," an inspirational sports movie starring Taron Egerton and Hugh Jackman, only soared to $175,000 from 1,700 locations on Thursday.
With a production budget of $140 million, the $800,000 start for "Gods of Egypt" is a weak one — the Lionsgate film is looking to bomb with a cumulative gross of $27 million, according to BoxOffice.com.
Also Read: 'Gods of Egypt' Review Roundup: Critics Pan Whitewashed 'Bad Video Game'
However, it is performing well overseas, launching in first place in countries like Russia, Thailand, Malaysia, Singapore and the Philippines. It is opening in 68 markets this weekend.
The film is directed by Australian Alex Proyas. Matt Sazama and Burk Sharpless wrote the screenplay, which follows mortal hero Bek (Brenton Thwaites) on his journey to save the world and rescue his true love. He enlists the help of the powerful god Horus (Nikolaj Coster-Waldau) in an unlikely alliance against Set (Gerard Butler), the merciless god of darkness, who has plunged the empire into chaos and conflict. Also in the cast are Elodie Young, Chadwick Boseman and Geoffrey Rush.
The film drew fire last year when posters featuring its essentially all-white cast were released, and Lionsgate and Proyas apologized for the historically inaccurate casting.
"Eddie the Eagle," an Open Road Film, cost less than $30 million to produce and is looking to make between $7 million to $10 million its opening weekend, similarly to Open Road's other newcomer this weekend, "Triple 9."
Also Read: 'Deadpool' to Dominate Box Office for 3rd Straight Weekend
It is produced by Matthew Vaughn, who directed last year's breakout hit "Kingsman: The Secret Service" for Fox. "Eddie" features that film's star, Egerton, as the British ski jumper who became a cult hero at the 1988 Winter Olympics in Calgary, Canada. Dexter Fletcher directs and Hugh Jackman and Christopher Walken co-star.
"Triple 9," Open Road's other newcomer this weekend, is looking to make $7 million to $10 million as well.
"Triple 9" revolves around gangsters blackmailed by the Russian mafia and their plan to kill a cop to divert attention from a major heist. The ensemble cast features Casey Affleck, Chiwetel Ejiofor, Anthony Mackie, Aaron Paul, Norman Reedus, Woody Harrelson, Kate Winslet and Gal Gadot. John Hillcoast directs from a script by Matt Cook.
Open Road has mounted a significant marketing campaign behind the thriller, which is at 56 percent fresh on Rotten Tomatoes and has a higher social-media profile than "Nightcrawler," another Open Road crime drama that opened to around $10 million in October of 2014. "Triple 9" will be in 2,158 theaters.
See Video: Anthony Mackie, Norman Reedus and Chiwetel Ejiofor Are Corrupt Cops in New 'Triple 9' Trailer
"Crouching Tiger, Hidden Dragon: Sword of Destiny" won't be opening wide — instead it will be available for streaming via Netflix and play on a handful of IMAX screens.
The mediocre starts for all newcomers can be attributed to the lingering legs of Ryan Reynolds' "Deadpool," which is expected to rake in another $25 million in its third weekend, adding to its $516.7 million worldwide total.