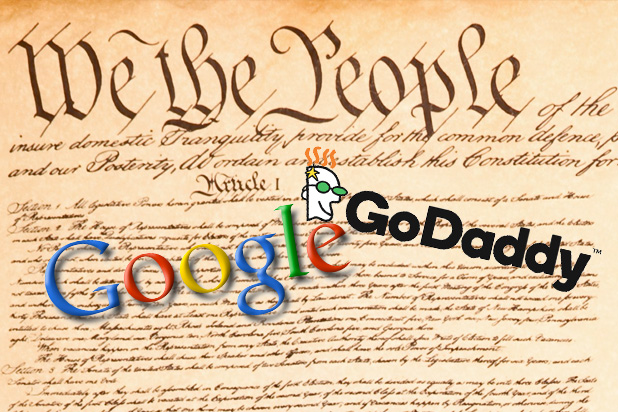 Google and GoDaddy did not violate the Daily Stormer's constitutional right of free speech by kicking the white supremacist website off their internet hosting services, experts say.
The First Amendment "limits only the government, not private parties such as Google and GoDaddy," free speech expert and NYU adjunct law professor Floyd Abrams told TheWrap.
Because "neither GoDaddy or Google have any First Amendment obligations to any customer," the Daily Stormer would not win a First Amendment  lawsuit against those private companies, Santa Clara law professor and internet expert Eric Goldman told TheWrap.
Also Read: Neo-Nazi Site Daily Stormer Booted by Google Just Hours After Dropped by GoDaddy
The Daily Stormer has been scrambling to find a new internet hosting service after GoDaddy tweeted Sunday evening that it would cancel its domain name hosting service for the site. Google quickly announced on Monday it would follow suit.
Both internet giants dumped the white supremacist website in response to a Twitter campaign by New York community activist Amy Siskind.
The government can't ban hate speech because it is protected by the First Amendment in the United States, professor Abrams said. But he is troubled about the power of private companies to censor speech online even if it is legally permissible.
Also Read: Why Neo-Nazi Website Daily Stormer Is on Brink of Elimination
"There are serious policy issues about how Google, Facebook and the like should decide who and what to carry and what not," Abrams said. "Given the power of such entities, it's important that they lean heavily in direction of carrying more rather than less. But I don't object to them having some standards as to what to choose to carry."
Professor Goldman said GoDaddy and Google's actions will have no real impact on the Daily Stormer because the website can easily find another domain-name hosting service in the United States or overseas.
"This is all for show," Goldman said. "The Daily Stormer will stay up online regardless of how many domain hosts kick them off." Goldman emphasized that domain-name hosting services simply direct traffic to the correct domain name, and do not host website content.
Also Read: Trump (Finally) Condemns 'KKK, Neo-Nazis, White Supremacists': 'Racism Is Evil' (Video)
The Twitter campaign against Daily Stormer began at 6:37 p.m. on Sunday when Siskind, a women's advocate and president of The New Agenda, tweeted her complaint to GoDaddy about the Daily Stormer.
She cited her objections to the site's post about Heather Heyer, the 32-year-old paralegal killed Saturday when she was run over by a protester in Charlottesville, Virginia, when she was demonstrating against a gathering of white supremacists there.
In her tweet to GoDaddy, Suskind linked to the Daily Stormer article headlined "Heather Heyer: Woman Killed in Road Rage Incident was a Fat, Childless, 32-Year-Old Slut."
"You host The Daily Stormer," Suskind tweeted to GoDaddy. "They posted this on their site. Please retweet if you think this hate should be taken down & banned."
At 8:24 p.m., GoDaddy tweeted back to Suskin, "We informed The Daily Stormer that they have 24 hours to move the domain to another provider, as they have violated our terms of service."
GoDaddy spokeswoman Karen Tillman told TheWrap that the Daily Stormer violated its general rules of conduct banning content that "promotes, encourages or engages in terrorism, violence against people, animals, or property."
After Daily Stormer moved to Google's hosting service, activists complains to Google, and it announced on Monday it was booting the website.
"We are canceling Daily Stormer's registration with Google Domains for violating our terms of service," a Google spokesperson told TheWrap on Monday.
Also Read: White Supremacists Step Up 'Unprecedented' Recruitment on College Campuses, ADL Says
A Google spokesperson pointed to Google's "Representations and Warranties" section of its terms of service — which prohibits sites from "deceptive practices" and "items of a destructive or deceptive nature" — as the reason it removed Daily Stormer from Google's site hosting service.
As of late Monday, the Daily Stormer was still online, carrying headlines such as  "Trump Finally Gives Half-Assed Charlottesville Statement to Whining Jew Media."
The Daily Stormer did not respond to a request for comment.