The Republican National Convention kicked off on Monday with dueling protests, one held by Donald Trump supporters, the other by his critics.
Hundreds of anti-Trump demonstrators took to the streets of downtown Cleveland Monday afternoon, minutes before the GOP convention was set to begin. At least 900 people showed up for the protest, many of whom traveled thousands of miles to take part in the event, according to organizers.
"We want the Republicans to know that we're out here with a different message," spokesperson for the Coalition to March on the RNC, Tom Burke told TheWrap. "We stand for peace and justice and equality and we're going to be in the streets demanding it."
Also Read: Donald Trump Aide Welcomes Protester "Lawlessness" at Convention
Protesters chanted, "No Trump, no KKK, no racist U.S.A.," and "Black Lives Matter!"
"I'm here today to tell Donald Trump and the RNC they need to spread love and not hate," said one protester who flew in from Wisconsin to attend the march.
Meanwhile, about 200 Trump supporters gathered at a downtown area park for an "America First" rally. A few Trump backers openly carried guns, which is allowed under Ohio law.
Asked why he was carrying an American-made AK-47 over his shoulder, Jesse Gonzales, a 26-year-old construction worker form Lakewood, Ohio, told TheWrap: "Because I can. It's the law and I can do so. Also, most importantly, if you stop exercising your rights, they take it away."
A small group of counter-protesters yelled anti-LGBT slurs at the anti-Trump demonstrators as they marched through Cleveland's downtown area, including one man wearing a T-shirt that read, "Homosexuals and Homosexual Supporters Will Go To Hell."
Also Read: Who Needs Reporters? BuzzFeed Deploys Bot to Help Cover GOP Convention
At one point, Cleveland Police formed a barrier between the two groups in what was otherwise a mostly peaceful demonstration.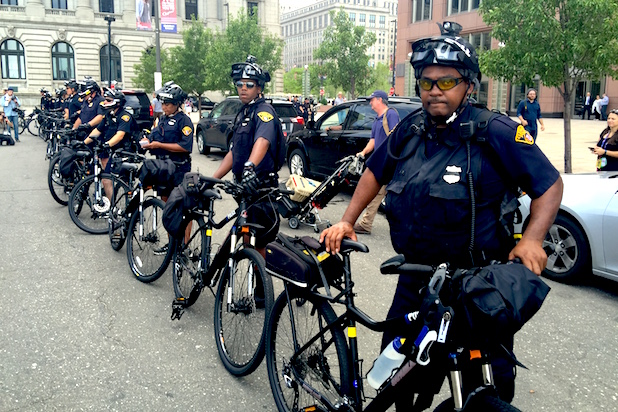 There were no reports of clashes between pro and anti-Trump forces during the two protests.
The Stop Trump group plans to march again on Thursday, the last day of the RNC, though organizers say they have not yet nailed down details for the protest.