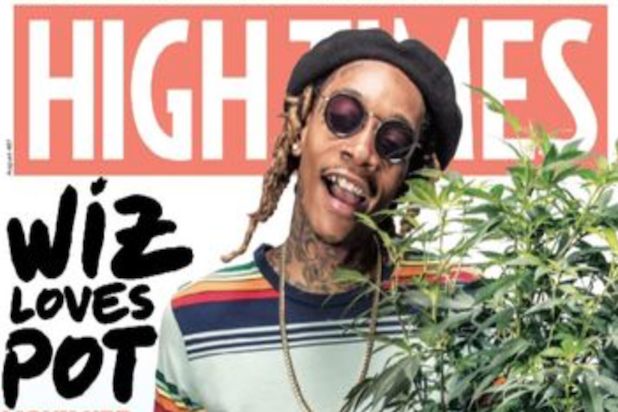 High Times is expanding its digital reach with new offices in Los Angeles and an eye on the future. The company has named David Bienenstock its first ever head of content and its expansion includes the launch of a daily "Weed to Know" newsletter for the latest marijuana news, an updated mobile-ready website and additional video content.
High Times Chief Operating Officer Larry Linietsky told TheWrap that nearly 80 percent of the company's traffic is already mobile despite the fact that the previous platform wasn't built for mobile consumption.
"As a 42-year-old brand, we have been very focused on continuing to be the authentic voice in cannabis and this year we have stepped up to make sure we have the best digital and overall content in the space," Linietsky said. "We had to change and upgrade."
Also Read: Barbara Boxer Tells Bill Maher She's 'Leaning' Toward Legalizing Weed (Video)
"Weed to Know" will be a daily email written by Jen Bernstein with "everything you need to know in the cannabis space," according to Linietsky. He explained that the marijuana space continues to gain new potential users as more states vote to legalize it and these people want a place to find out the latest news.
"I think we have seen a steady increase in the audience that's voraciously interested in cannabis," he said. "You can see it in all of the metrics. Legalization has brought new people, rekindled older, traditional stoners that have always been somewhat closeted to come out and show their allegiance to the cause."
Linietsky says that "a lot of people with money" are coming into the space now because they see how it's "going to be a vibrant, lucrative, organic, local medicinal and adult use massive business."
Also Read: From Snoop to Roseanne: What Drives Hollywood's Budding Marijuana Moguls
A team of seven content producers, reporters and ad sales representatives will staff the new Los Angeles office. Linietsky said the staff could grow in the near future.
"In addition to being a leading hub of marijuana culture… Los Angeles is also the hub of the entertainment industry and that's something that we are looking to increasingly expand into," Bienenstock said. "The synergy between those two worlds is really going to intersect."
Bienenstock, who returns to High Times after serving as an editor for the magazine from 2002 to 2012, will lead the Los Angeles office. He will oversee content for High Times and help spearhead the company's modernization of its digital platforms.
Also Read: Donald Trump Has Not Smoked Weed, Only Eats Cereals 'Made in the USA'
High Times' existing video department will now report to Bienenstock, who is also devising several new items for the video space. Bienenstock was most recently at VICE, where he produced a video series called based on edibles titled, "Bong Appetit."
"I'm thrilled to return to the world's leading voice of authentic cannabis culture, and to lead High Times' incredibly talented and dedicated team in creating compelling content that both honors the brand's deep roots and leads the way in defining the coming post-prohibition future. From the ongoing injustice of the war on marijuana, to the latest developments in medical cannabis, to the rapid development of a newly established marijuana industry, there's never been a more exciting time to cover this movement," said Bienenstock said. "I also look forward to expanding the brand's presence in the entertainment industry from our new Los Angeles office via a variety of exciting new projects."
Bienenstock cautioned that he needs to be mindful of the fact that while legalization is happening in many places, the "war on marijuana" continues in many parts of the country.
Also Read: Roseanne Barr to Open Medical Marijuana Dispensary
While the new venture is going to bring weed-related jobs to L.A., Linietsky says the staff doesn't just sit around the office smoking all day.
"There are several people who are editorially focused where their job is to understand cannabis and be able to judge the product and understand what's best and what's not and what's new and what's hot," he says. "Those folks are encouraged, it doesn't happen in the office, but they're encouraged to use the product. They're connoisseurs."