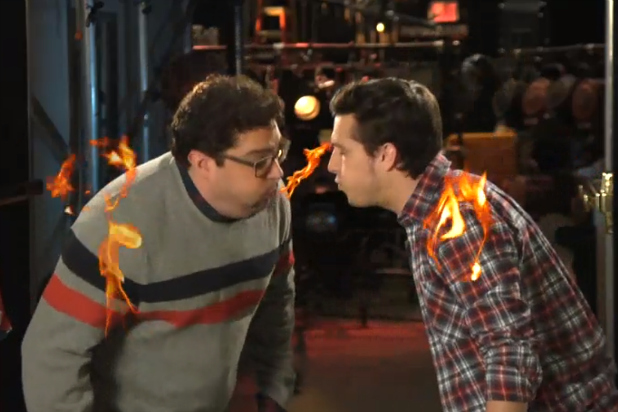 "SNL" guest host Josh Hutcherson is so young and strong-jawed that you just want to punch him in the face — or at least, Bobby Moynihan does.
The "Saturday Night Live" veteran cracked jokes — and Hutcherson, twice — in the promos for the Nov. 23 episode.
The two predictably burst into flames during the clip, which also saw Moynihan eating food while denying a bite to Hutcherson. Yes, the near-three-minute commercial was packed with "Hunger Games: Catching Fire" puns.
See video: 'SNL' Spoofs Toronto Mayor Rob Ford and '60 Minutes'; Presents 'Paxil for President Obama'
The near-identical twins also bonded over their worst jobs ever. Though Hutcherson's "sticky" ice cream shop experience sounds a hell of a lot better than Moynihan's prior employment.
Finally, Moynihan put Hutcherson through the grueling "SNL" Initiation, which the young actor passed the flying colors. When the tides were turned on Bobby however, well, let's just say he can only dish it out.
HAIM is the musical guest on Saturday. "Hunger Games: Catching Fire" hits theaters Friday.
Watch the clip: