Lionsgate has cast Willow Shields, a newcomer, to play Primrose Everdeen in "The Hunger Games," the studio announced Wednesday.
The character is the little sister of Katniss Everdeen, played by Jennifer Lawrence.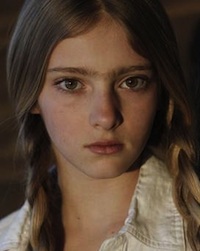 She joins a cast that includes Josh Hutcherson and Liam Hemsworth.
Also read: Elizabeth Banks Circling Lionsgate's 'Hunger Games'
In a written statement, director Gary Ross said, "It's so exciting to find an amazing young actress like the one we just met. Prim is an emotionally demanding role and in many ways she is the cornerstone of the story."
Based on a novel by Suzanne Collins novel, "The Hunger Games" is the first in a trilogy and has sold 3 million copies in print in the United States.
"The Hunger Games" is set in a dystopic world, where teenagers are forced to participate in the annual "Hunger Games," a fight-to-the-death televised event.
Lionsgate has high hopes for the film, which it hopes to turn into a franchise to potentially rival Summit's mega-grossing "Twilight."
Gary Ross ("Seabiscuit") is directing the movie, which will debut on March 23, 2012.
Billy Ray ("Shattered Glass," "State of Play") wrote the screenplay. Nina Jacobson, Jim Miller and Alli Shearmur are producing.
Shields is repped by the A&M Agency in her home state of New Mexico.