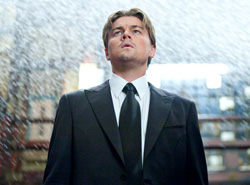 Wall Street thinks Chris Nolan is dreamy.
Barron's raised its quarterly earnings estimates for Time Warner on Thursday, thanks solely to the box office success of Nolan's "Inception."
Via Barron's:
We are raising September-quarter estimates on Time Warner's studio entertainment line due entirely to the surprise global success of the Chris Nolan feature Inception, which has become the sleeper hit of the summer with global box-office receipts as of close-of-business Tuesday of $565.4 million, a cool $265 million higher than we had originally forecast in our internal models.
Our fiscal third-quarter revenue estimate moves from $6.43 billion to $6.57 billion, while our fiscal third-quarter earnings-per-share estimate moves from 53 cents to 55 cents.
Earlier this month, Time Warner reported a 7 percent bump in profit during the fiscal second quarter, mostly on advertising gains. Revenue at Warner Bros. rose 8 percent on the box office strength of "Clash of the Titans" and "Sex and the City 2" – though the gain in revenue was offset by higher production and marketing costs (mainly for "Inception"). Operating profit fell about 2 percent.
TW chief Jeff Bewkes said Time Warner expects earnings per share would end the year up at least 20 percent — an increase from the mid-teens forecast it delivered in May.