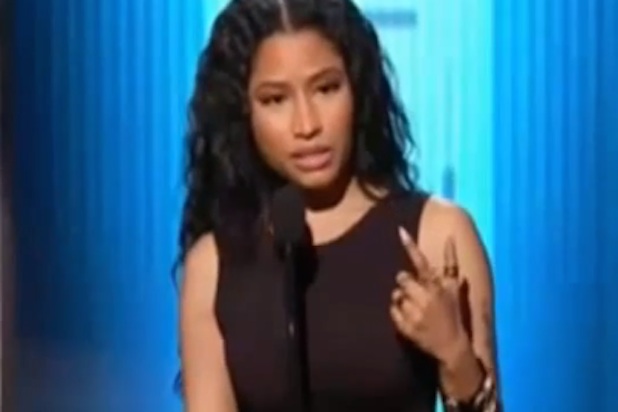 Did Nicki Minaj take shots at Iggy Azalea during her acceptance speech for Best Female Hip Hop Artist at Sunday's BET Awards? Fans of a good hip-hop feud couldn't help but notice that she seemed to be starting one without explicitly starting one.
Also read: BET Awards Host Chris Rock Skewers Donald Sterling, Kevin Hart and Jay Z's Elevator Fight (Video)
While Minaj did not mention Azalea by name, the performer emphasized she wrote all of her own lyrics, which some have interpreted as an implicit dig at Azalea, who does not. Azalea, a white Australian, was Minaj's strongest competition for the award. Her delivery has raised questions about cultural appropriation.
"What I want the world to know about Nicki Minaj is, that when you hear Nicki Minaj spit, Nicki Minaj wrote it," Minaj said.
She added: "No, no, no shade," meaning she was throwing shade, or disrespect.
"No, no, no shade. I used to sit in the studio with [Lil Wayne] and I would literally take sometimes three, four days to write a verse. And he was like, 'No, you can't be taking days to write no verse, you gotta write your verse right here in the studio.' And that's why I love him 'til this day. Because he pushed me to push my pen, and I'm still one of the only emcees that's out here spitting metaphors and making you think," she said.
"And I really don't even care if I get my credit or if I don't. I don't look at myself as a female rapper, because I know what I do. And I thank my fans because they…They might cut me off. This is so big. At one time black people was getting blacked out on the TV now they own their own network. This is big. This is different," the rapper added.
Also read: Steven Tyler Thinks Nicki Minaj and Mariah Carey Should 'Shut the F— Up'; Minaj Calls Him 'Racist'
"I just wanna say that, the other day, literally I didn't tell anyone this, I really thought I was about to die. Like I was saying my prayers to die. And I didn't even wanna call the ambulance because I thought well if I call the ambulance, it's gonna be on TMZ. And I would rather sit there and die. And it made me realize, I don't care what anybody gotta say. I'ma do me. I'ma do me. And I hope and pray that BET continues to honor authenticity. And that's all I'm gonna say about that," she concluded.
Watch the video: