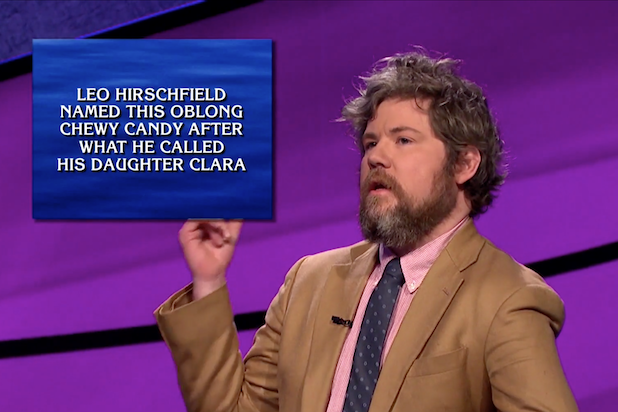 "Jeopardy!" jumped to a 7-month TV ratings high the week of Oct. 9 – Oct. 13, as New York City bartender Austin Rogers' impressive 12-show winning streak came to an end.
The Alex Trebek-hosted game show grew 8 percent week over week, averaging a 6.4 rating. That was close behind weekly winner "Family Feud" (a 6.7, also up 8 percent) and runner-up "Judge Judy" (6.6, up 2 percent).
"Wheel of Fortune" finished fourth for the week with a 5.9 national syndication Nielsen rating.
Also Read: 'Jeopardy!' Winner Austin Rogers on Online Trolls: 'I Take the Haterade With a Grain of Salt'
Rogers, who went into the Oct. 12 episode — his last — with a dozen-day total of $411,000, came up with the correct answer in his final Final Jeopardy, nearly doubling his haul for the day for a total of $33,150.
However, it wasn't enough to surpass Tennessee stay-at-home mom Scarlett, who also came up with the correct question in the Movie History category ("It's a Wonderful Life") for a total of $33,201.
Before he bid adieu to the game show, however, Rogers helped give birth to the unlikely "Jeopardy!" phrase "d– tree." Read all about that here.