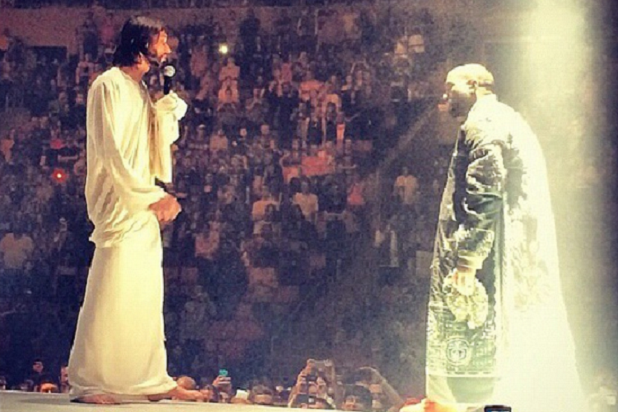 Kanye West opened his Yeezus tour Saturday night in Seattle, closing the evening with a guest appearance by Jesus – or at least a reasonable facsimile.
The rapper performed mainly selections from the new album on a spectacular Key Arena stage that featured a 60-foot tall white mountain as a centerpiece with a gigantic circular projection screen hanging above.
Also read: 20 of Kanye West's Most Poignant and Craziest Ramblings From Jimmy Kimmel
West wore a series of masks while performing "On Sight," "New Slave" and "Send It Up," along with some of his older material. Toward the end of the show the stage mountain split apart and spewed clouds of white smoke – along with the Virgin Mary and a large crucifix as West sang "I Wonder."
Then came the capper, according to Rolling Stone: a guest appearance by none other than Jesus Christ.
West removed his mask and told the Savior figure that that he had been looking for him, to which Jesus responded that he had been there all along. Then, as the Christ figure would ascend to the top of the mountain, West bowed and the refrain from "On Sight" played:
"You give us what we need, it may not be what we want."
Kendrick Lamar opened the show.