"Kick-Ass" didn't exactly live up to its title in its first week on DVD. Although the superhero satire debuted strongly, capturing second place on the rental and sales charts, it couldn't topple "Clash of the Titans" and "DIary of a Wimpy Kid."
In its second week, "Clash" maintained its hold on the rental charts but had to settle for third on the sales end, according to Rentrak. Owing no doubt to its family-friendly nature, "Diary of a Wimpy Kid" was the week's top selling disc.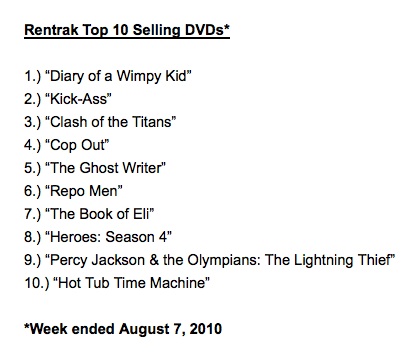 For more tech-savvy viewers "Kick-Ass" was far and away the week's favorite son. "Kick-Ass" was the top download on the iTunes store, Zune and Sony/Playstation and achieved the biggest digital debut ever by a Lionsgate title, the studio said on Thursday.
As for "The Ghost Writer," strong reviews and its director's notoriety didn't translate into DVD dominance. The Roman Polanski thriller was the week's fifth best-selling disc and the eight most rented disc.
Next week brings the Steve Carell and Tina Fey team up "Date Night," as well as the debut of the comedy remake "Death at a Funeral."