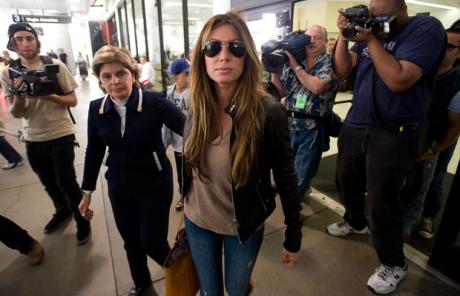 Today's brunch-hour press conference at Gloria Allred's office has been abruptly canceled. The celebrity attorney had called the gathering to issue a statement about her client, Rachel Uchitel, who's been linked to golfing great Tiger Woods. Uchitel has vehemently denied having an affair with Woods but early this morning TMZ posted a story claiming the New York party girl lied to cover up for Woods – igniting speculation that this revelation forced Glo-red to pull the plug on the presser.
The media have been on scandal war footing ever since news of Woods' infidelities began hemorrhaging on gossip Web sites after his mysterious car crash last Friday. First there was the allegation that Uchitel was Woods' mistress and the casus belli between Woods and his wife, Elin Nordegren.
On Sunday Uchitel flew from the relatively benign scrutiny of New York's media to the 24-hour X-ray exposure of Los Angeles' news cycle. She came, she said, to take cover under the protective legal wing of Allred — who had, apparently, generously offered to absorb some of the publicity surrounding Uchitel.
The Rach narrative was swept away Tuesday, however, with torrid statements from a self-confessed Woods mistress, Jaimee Grubbs – whose phone number Nordegren allegedly discovered during a routine sweep of Woods' cell phone.
Now, however, everything's pointing back to Uchitel, who was to be present at today's conference, but not to speak. It had promised to be a consummate media circus, with reporters yelling at a mute and chastened Rach, while taking photographs. But now not even Allred is talking. Callers to her office have a statement read to them by an assistant: "Due to unforeseen circumstances the news conference scheduled for today is canceled. There will be no further statements."