"Lethal Weapon" star Damon Wayans shared a graphic video and photo on his Twitter page after former co-star Clayne Crawford's recent firing from the Fox drama.
The video was shot during the filming of a Season 2 episode that was directed by Crawford and shows Wayans being hit in the head with shrapnel.
"Now that the fate of the show is solidified," Wayans said, referring to it being renewed for Season 3 without Crawford, "I'd like to address the Twitter outrage with this video and image to follow #directedby@ClayneCrawford."
Also Read: Fox Brass on Clayne Crawford's 'Lethal Weapon' Firing: 'This Was Not Our Choice'
Wayans' Twitter account is set to private but The Hollywood Reporter captured screenshots of the tweets.
Wayans' next post said: "How does the shrapnel from this hit me on the opposite side of the head? #directedby@ClayneCrawford."
Later he added: "Below is a rendering seeking to explain yesterday's incident. It turns out there was a second shooter, to Damon's left, on the other side of the pillar behind which his character was crouched, which accounts for what he heard from his left side. @claynecrawford #noapology."
Also Read: Clayne Crawford Responds to 'Lethal Weapon' Firing with Glum Photo
See screenshots of the tweets below.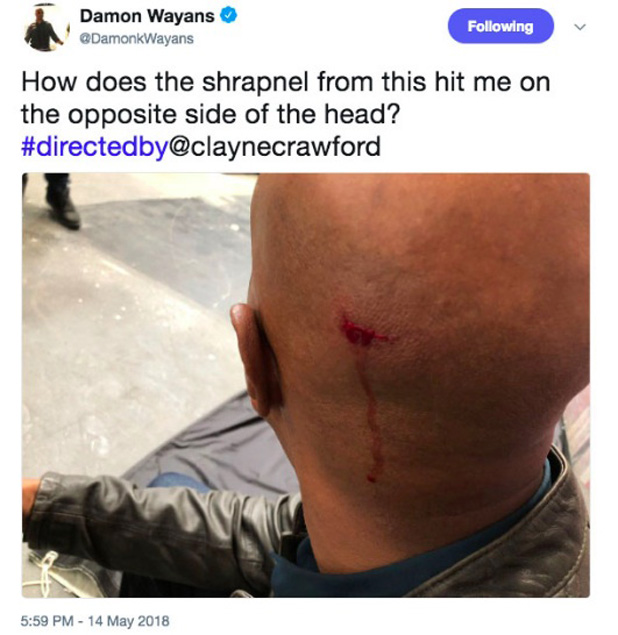 According to IMDb.com, Crawford directed the Season 2 episode titled "Jesse's Girl," which aired on April 24.
A representative for Fox referred TheWrap to Warner Bros. Television, who did not immediately respond to our request for clarification on Wayans' tweets.
Also Read: Clayne Crawford's Reaction to 'Lethal Weapon' Recasting News Is Actually Pretty Hilarious
On Sunday, Michael Thorn, president of entertainment at Fox Broadcasting Company, announced that "Lethal Weapon" had been renewed for a third season, and that Seann William Scott ("American Pie") would join the cast as a new character who folds into a partnership with Roger Murtaugh (Wayans).
Also Read: Fox's 'Lethal Weapon' Renewed Without Clayne Crawford; Seann William Scott to Star
A spokesperson for Warner Bros. Television added that the studio had "decided not to renew Clayne Crawford's contract for 'Lethal Weapon,'" following incidents of bad behavior on the Fox action drama's set, for which he apologized.
"Lethal Weapon" is based on the feature film franchise of the same name. The cast includes Keesha Sharp, Kevin Rahm, Jordana Brewster, Johnathan Fernandez, Dante Brown, Chandler Kinney and Michelle Mitchenor.