Lionsgate will distribute "The Big Wedding," an ensemble comedy with Robert De Niro, Diane Keaton, Susan Sarandon and Robin Williams, in the U.S. and the U.K., the company announced Tuesday.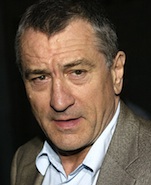 The Nu Image/Millennium Films production is now shooting in Greenwich, Conn.
It's about Don and Ellie, played by De Niro and Keaton, two divorced people who pretend they're still married for their son's wedding.
Katherine Heigl, Amanda Seyfried, Ben Barnes and Topher Grace also star in the movie, formerly called "Gently Down the Stream."
Also read: Topher Grace to Join Robert De Niro, Diane Keaton in 'Gently Down the Stream'
"The Bucket List's" Justin Zackham wrote and is directing the movie. Zackham also is producing, along with Clay Pecorin, Richard Salvatore and Harry Ufland.
Nu Image is handling international sales.
Lionsgate and Nu Image worked together on "The Expendables" and the upcoming "Conan the Barbarian."