Frank Giustra, the Canadian businessman who founded Lionsgate Entertainment, has made a substantial investment in the Vancouver-based Thunderbird Films, which plans to significantly increase its profile in Hollywood, the company said Wednesday.
Thunderbird owns a 50 percent stake in the "Blade Runner" film franchise, but is primarily a television company. It also has a rights management business.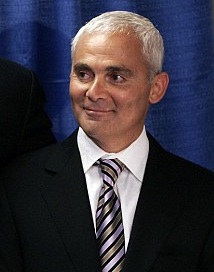 "We're going to be increasing our creative, we're going to be pitching more stuff, we're going to be acquiring more product to sell, we're going to increase our presence in distribution and original production and co-production," Michael Shepard, Thunderbird's co-founder and president, told TheWrap Wednesday morning.
The company's "Endgame" now runs on Hulu, and its "Mr. Young" is on Disney XD.
Also read: Alcon Entertainment in Final Negotiations for 'Blade Runner' Sequel and Prequel
Giustra's investment will help the company move into primetime series.
Shepard declined to provide specifics of Giustra's investment in the company.
He did, however, say that Thunderbird plans to open an office in Los Angeles.
He said that the investment will allow Thunderbird to provide advances to producers.
"Thunderbird will now have access to sufficient capital to focus on becoming a prominent entity in the production and distribution of television programming with a special emphasis on rights management," Giustra said in a statement. "I look forward to moving the company to its next level of success, leveraging its independence to capitalize on global opportunities."
Giustra founded Lionsgate in 1997 and was the company's chairman until 2003. He returned to the company's board of directors in 2010. He is president and CEO of Fiore Financial Corp. and chairman and president of Fiore Capital Corp.