Logo TV's first-ever gay dating competition, "Finding Prince Charming," has been rocked by the revelation that the show's star, 33-year old interior designer Robert Sepulveda, once worked as a male escort.
The network was blindsided by the disclosure, TheWrap has learned, and is scrambling to contain the PR nightmare as gay activists join the growing chorus of critics for a show that's been dubbed the gay version of "The Bachelor" and is set to premiere September 8.
A person close to the situation told TheWrap the network followed "standard protocol" when vetting Sepulveda and that "nothing came up during the background check."
"The network didn't find out until well into production," he added.
Also Read: Lance Bass to Host Gay Dating Competition Series for Logo
But the backlash has already begun to mount. "To call him 'Prince Charming' is a little reckless," AIDS activist Tyler Curry told TheWrap, while cautioning against "shaming" people who become sex workers.
Gay news site Queerty noted its commenters were going "ballistic" about Seplveda's casting, with some calling him "a disgrace to the community."
In its first public comments about the controversy, a Logo spokesperson told TheWrap: "'Finding Prince Charming' is a reality series about 13 people looking for Mr. Right. As in real life, the show will cover a range of topics people face when dating, from first time love to coming to terms with one's past, fear of commitment and even HIV.  We look forward to taking viewers on a journey of the human spirit in search of love."
On Wednesday, Sepulveda told the Huffington Post's Noah Michelson that he did in fact work as an escort: "The past is the past. I was young and it helped through college." He went on to explain that he wanted "people to focus on is who I am today as an entrepreneur, as an activist."
Also Read: Openly Gay Olympic Swimmer Says 'Daily Beast Should Be Ashamed'
The show's host, former *NSYNC member Lance Bass, added, "We all have our past. I was in a boy band. I'll admit it."
Rumors of Sepulveda's past began to circulate last week after several gay news sites uncovered his escorting profile on the now defunct website RentBoy.com. The articles came complete with eye-popping evidence, including NSFW pictures and videos from his time as a sex worker.
On Tuesday, several gay blogs unearthed a scathing review written by one of Sepulveda's alleged clients claiming Sepulveda wouldn't meet with him because he was African-American. The discovery prompted celebrity blogger Perez Hilton to ask: "'The Gay Bachelor' Wasn't Just A RentBoy In The Past… He Also Did Porn & Was Maybe Racist?!"
(Late Thurdsay, a lawyer for Sepulveda insisted that his client has never done porn and that a video sent to an ex-boyfriend 10 years ago was posted online without Sepulveda's permission — and has since been removed from the site Xtube. He also labeled the accusations about a meeting with an African-American client "false.")
Also Read: Pastor Who Bashed Orlando Victims Arrested on Child Molestation Charge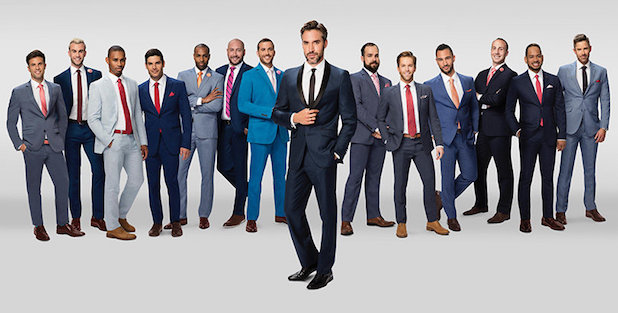 "Finding Prince Charming" has become a target for other reasons too. Jezebel slammed Logo for trying to sell the show as anything more than "trashy television" after Bass revealed one of the contestants was HIV positive.
"There's a lot of heart in it and amazing story lines that you're going to shed a tear over. And one of those is finding about this guy's HIV," Bass told People.
But Curry suggested even that reeked of insensitivity. "They're acting as if being HIV positive is a character flaw," Curry said. "Oh look, isn't he great? He's willing to date even someone who is positive."
Also Read: ShortList 2016: First Openly Gay Country Album Is Born in 'These C-cksucking Tears' (Video)
Still, many in the LGBT community are especially sensitive about shaming anyone for their past sexual behavior.
"I don't pass judgment on his choice to be a sex worker," Perez Hilton told TheWrap via email. "It does reflect what I perceive to be a more accepting attitude amongst the gay community towards prostitution vs. the heterosexual community. Equality for all — even rentboys! Is he MY ideal Prince Charming? Hell no! Is he great trash tv? Probably! TBD."
Critics argue there is a difference between shaming sex work and pretending it's just another run-of-the-mill job, especially in a community with a disproportionate number of at-risk youth who are forced to turn to hustling to survive.
"It's a serious issue," Darnell Green, Health Education and Prevention Services Manager at the L.A. LGBT Center, told TheWrap. "Most people don't do it for the money, they do it for shelter."
There are approximately 1.6 million to 2.8 million homeless young people in the United States, a disproportionate number of those youth are LGBT. Experts say that's because LGBT youth are often rejected by their own families when they come out as gay and are forced to fend for themselves.
Green says many of the LGBT youth who arrive at his center are also at higher risk for HIV. "When you barter sex for shelter it leaves you powerless," he said.
"It's not a safe environment no matter which way you cut it," Curry added. "As a gay network and a gay show, these platforms have a responsibility."
Also Read: Logo Renews 'RuPaul's Drag Race' for 9th Season, Greenlights Kelly Ripa's 'Fire Island'
The $64,000 question is: What will all this do to the show's ratings?
"In the long run, it might actually be good for Logo," said Howard Bragman, a crisis PR manager who is also openly gay. "There are controversies and there are crises. This is a controversy. Controversies can be good. Donald Trump got to be the GOP nominee on the back of controversies."
"Personally, I was much more offended by the suit he wore to the premiere than I was by the fact that he was an escort," Bragman added.
"Finding Prince Charming" premieres September 8 at 9 p.m. ET on Logo.
You can watch a trailer for the show below: