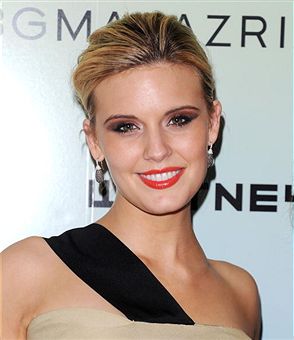 Remember when Maggie Grace was just the hot blonde from "Lost," who got written off the series way too early and went on to star in that terrible remake of "The Fog" before disappearing for a couple years?
Well, fortunately, the surprising success of "Taken" has given her once-foggy career prospects a new lease on life, as the actress has been cast in Summit's "Breaking Dawn," the two-part final installment in "The Twilight Saga," reports Deadline.
Grace will play Irina, a vampire who poses a threat to Kristen Stewart's Bella in the highly-anticipated sequel. The character is a member of the Denali coven, the yellow-eyed "vegetarian" vampire clan who the Cullens consider cousins due to their mutual lack of interest in human blood.
When Irina blames the Cullens for the death of her lover (can I audition for that role?), she wreaks havoc in her quest for revenge, and in the process, sets off a terrifying (PG-13) chain of events.
Summit will release the first film on Nov. 18, 2011 and the franchise finale on Nov. 16, 2012.
Melissa Rosenberg is adaptating Stephenie Meyer's novel as two separate scripts.
Bill Condon directs from two adapted screenplays by Melissa Rosenberg, the former "Dexter" writer-producer who should probably name something important in her life after Stephenie Meyer, the "Twilight" author who will produce "Breaking Dawn" along with Wyck Godfrey and Karen Rosenfelt.
Grace first gained Hollywood's attention for playing Martha Moxley in the 2002 TV movie "Murder in Greenwich." She recently played Cameron Diaz's sister in "Knight and Day," and can now be seen alongside Oscar winners Adrien Brody and Forest Whitaker in the direct-to-DVD thriller "The Experiment."
Grace next stars opposite Dwayne Johnson in CBS Films' "Faster," and she's also set to re-team with her "Taken" producer Luc Besson for the outer space thriller "Lockout," which stars Guy Pearce as a wrongly convicted man who must rescue the president's daughter (Grace) from an interstellar prison that has been taken over by violent inmates.
The 27-year-old actress is also expected to reprise her role in "Taken 2."
Grace is represented by UTA and Global Creative.