Robert Rodriguez's blade-wielding ex-federale should win what is shaping up to be a sluggish holiday weekend weekend at the box office — but just by a knife point.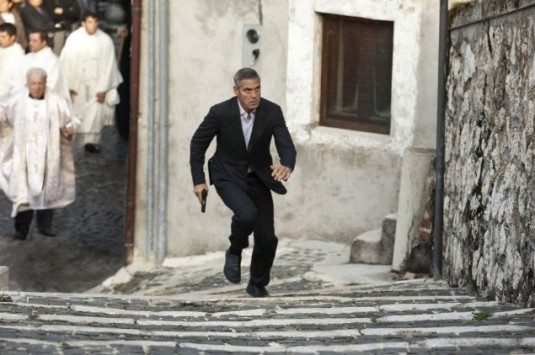 With its ultra-violence and clever viral marketing campaign, the Fox film bursts in with the most heat, but its primary competition, both of which appeal to markedly different demographics, should be close behind.
That would be Warner Bros.' rom-com "Going the Distance," with Drew Barrymore and Justin Long, and Focus' George Clooney-starrer, "The American," which debuted on Wednesday.
Opening in 2,669 theaters, "Machete" should bring in between $12 to $15 million over the four day weekend, according to pre-release surveys.
"Even though it's a hard 'R,' it's a hoot and will appeal to a broader audience than just young males," Chris Aronson, executive vice president of distribution for Fox. told TheWrap.
As for the female moviegoers, "Going the Distance" hopes to serve as a kinder, gentler alternative to the south-of-the border splatterfest — perhaps the starkest instance of counter-programming since "Eat Pray Love" squared off against the Sylvester Stallone action fest "The Expendables" last month.
"We've got the females to ourselves this weekend," Jeff Goldstein, vice president of domestic distribution told TheWrap. "Drew is adorable, and we're getting a great response to our screenings."
Despite soft pre-release tracking, the $30 million film should make $13 to $14 million over the holiday. Released in 3,030 theaters, it's got by far the largest theater counts of any of the three new films, and Barrymore has a decent track record.
"Music and Lyrics" opened to $13.6 million in 2007, and "Fever Pitch" made $12.4 million in 2005. Reviews have been lukewarm, but Sandra Bullock's critically reviled romance "All About Steve" managed to gross $14 million over the same period last year.
The week's other major release, hitman drama "The American," opened Wednesday to sharply divided critical reaction and a modest $1.7 million take. Produced by Focus Features, the $20 million throwback to the '70s era character driven thrillers should earn between $13 and $14 million in 2,721 theaters.
Notable holdovers Sony's "Takers" and Lionsgate's "The Last Exorcism" should see steep drop-offs from the $20 million they banked last weekend. Bothshould see their grosses fall by more than 50 percent.
Like its aging action star, Lionsgate's "The Expendables" is showing impressive durability. Though testosterone-heavy films typically fade quickly after their opening weekends, in its fourth week of release the men on a mission film should drop by less than 40 percent to over $5 million.
Opening in limited release are "The Winning Season," a sports comedy with Sam Rockwell and newly minted "Dragon Tattoo" star Rooney Mara, and the second part of French crime movie "Mesrine: Killer Instinct" — "Mesrine: Public Enemy #1" — with Vincent Cassel.