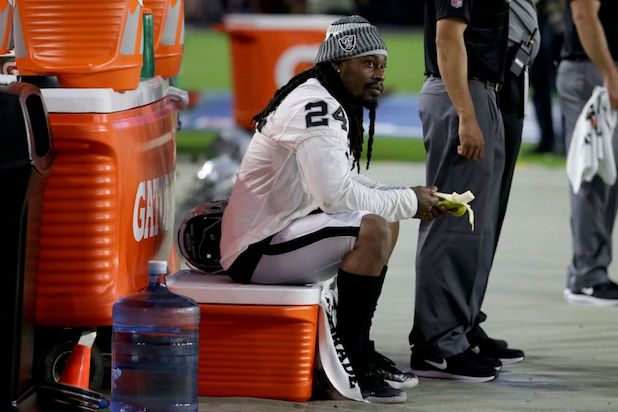 Through his entire NFL career, Marshawn Lynch hasn't been afraid to go against the grain, whether it's his refusal to speak to the press on Super Bowl media day or his outspoken support of Colin Kaepernick's decision to kneel during the "Star-Spangled Banner." On Saturday, during an NFL preseason game and just hours after the violence in Charlottesville, Lynch did it again by continuing his tradition of sitting down during the national anthem.
Oakland Raiders coach Jack Del Rio told reporters that while he personally believes in standing for the national anthem, he respects Lynch's decision and called it a "non-issue."
Also Read: Charlottesville Protesters Douse Journalists With Urine, Katie Couric Reports
"[Lynch] said, 'This is something I've done for 11 years,'" Del Rio recounted per The Mercury News. "'It's not a form of anything other than me being myself.'"
With emotions still running high after a white supremacist rally in Charlottesville, Virginia, turning into a violent confrontation that resulted in the death of one counter-protester, many of Lynch's fans took to Twitter to express their support for his actions. Others downplayed the moment, saying that what Lynch did on Saturday was no different than what he's done from the moment he first entered the NFL.
Also Read: Hollywood Reacts to Charlottesville Protest Violence: 'F-k These Nazi Motherf-kers'
So called patriots care more about songs and flags then the actual people they represent.
You do your thing Marshawn Lynch.

– TheEducatedMinority❄ (@Proud2Progress) August 13, 2017
"MARSHAWN LYNCH DISRESPECTS AMERICA" they will scream, the day after Nazis marched through the streets and killed law-abiding citizens.

– Mike Tanier ??"? (@MikeTanier) August 13, 2017
If you're mad about Marshawn lynch sitting for the National Anthem, but not about trump being silent on white supremacy, unfollow me.

– ???????????????? (@ye_inspired) August 13, 2017
Not sure why people are freaking over Marshawn Lynch sitting during the anthem, dude he's been doing it for a LOOOOONG time now

– Agent Cod ???" (@Zachshs17) August 13, 2017
Im a need all you white folks thats mad at Marshawn Lynch to have that same energy about these Nazi terrorists

– Rashaun Will (@RashaunWill) August 13, 2017
Honestly the news media is prolific for #FakeNews. Marshawn Lynch and other players used to sit all the time yet y'all blowing it up…

– Leo Warner (@leo_warner) August 13, 2017
All of my respect ✊✊????✊????✊????✊????to veterans, but the country is broken and Marshawn Lynch sitting is way more peaceful than torch bearing loons.

– Tarl Tankersley (@TarlwithaT) August 13, 2017
Amongst the overwhelming response from supporters there were also his critics, who called Lynch out for being "Anti-American."
A coach should just say STAND and you stand. Enabling these millennials isn't doing any of us any good.

- JeffNC1225 (@JNc1225) August 13, 2017
As crappy as the NFL's brand is becoming due to the brain damage scandal, Lynch, Kaepernick, and the like are hastening it's destruction.

- The Tall Tennessean (@budreaux44) August 13, 2017
NFL ratings will continue to suffer as long they allow traitors to do this to patriotic fans @NFL @ESPNNFL @nflnetwork #USA #America #US

- Right Angle (@Canuck6227) August 13, 2017