Dimension Films has hired Matt Lieberman to write "Short Circuit," a reimagining of the 1986 family film.
Tim Hill ("Hop," "Alvin and the Chipmunks") is directing.
Lieberman recently completed the Disney Writers Program.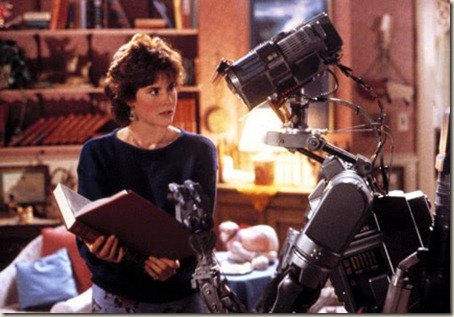 "Dimension has had great success with the 'Spy Kids' family series which grossed over $500 million worldwide," Bob Weinstein, co-chairman of the Weinstein Company, said in a statement. "We are looking for 'Short Circuit' to be our next family franchise."
Also read: Dimension Acquires Heist Comedy 'The Black Marks'
"Short Circuit" was about the lovable robot "Number 5," an experimental military robot who, after being struck by lightning, develops self-awareness. A young woman helps him evade capture and convince the people who built him that "Number Five is alive."
Ally Sheedy (above, with robot) and Steve Guttenberg starred in the movie.
The Weinstein Company owns Dimension.
David Foster, who produced the original "Short Circuit," is producing with Ryan E. Heppe, John Hyde and Brian Manis.
The movie begins filming around the end of the year. Dimension plans to release it in the summer of 2013.