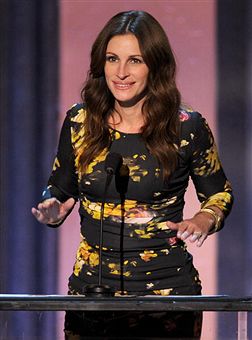 Oscar winners Meryl Streep and Julia Roberts are in talks to star in The Weinstein Company's adaptation of Tracy Letts' Pulitzer Prize and Tony Award-winning play "August: Osage County," reports Deadline.
"ER" creator John Wells is set to direct from a darkly comic script by Letts.
Streep will play Violet, the complicated, drug-addicted matriarch of the working class Weston clan, while Roberts will play Barbara Fordham, the family's eldest daughter whose estranged husband is cheating on her with a college student.
The story finds Barbara and her two sisters rallying to their mother's side after Violet's husband dies, which leads many family secrets to be revealed.
Harvey Weinstein has been developing the film for several years, having been involved in the original stage production with Jean Doumanian. The duo will produce the film together, and shooting is expected to start by next summer.
Oddly enough, Streep and Roberts have never worked together before, so I'm sure fans of the play are delighted by the news of their potential star pairing.
Wells has been building a relationship with TWC, which is scheduled to release his feature directorial debut, "The Company Men," on Oct. 22. The corporate downsizing drama stars Be Affleck, Kevin Costner, Tommy Lee Jones, Chris Cooper and Maria Bello.
Roberts, Streep and Wells are all represented by CAA.