The NBA All-Star game is the ultimate melding of sports and entertainment, so what better place to have it than in Los Angeles?
As the average height of people walking around downtown Los Angeles increased by about five inches, the NBA changed its format from East vs. West to the two most dominant players in the league drafting their own teams. And so we got Team LeBron vs. Team Steph going head-to-head at the Staples Center Sunday night.
While the game aired live in TNT, there was plenty of action over the weekend that wasn't caught on the cameras (not official ones at least). Luckily TheWrap battled the crowds and the endless barricades to give you a behind-the-scenes look at NBA All-Star weekend.
Also Read: LeBron James Is Determined to 'Talk About What's Really Important,' Will Not 'Shut Up and Dribble'
Here are what you didn't see on TV
1. Kevin Hart's bizarre player introductions
After a drunken Super Bowl weekend that included crashing the Philadelphia Eagles party, Kevin Hart had NBA fans scratching their heads Sunday night with his strange player introductions.
The comedian's intros seemed to take a lifetime as he threw in not-funny one-liners about each star. Fans in the stadium seemed perplexed — and impatient to start the game — while the Twitterverse really hated it!
People's reaction to Kevin Hart in 2010 vs 2018 pic.twitter.com/fygEgKn60o

— Bro Bro (@tinashesofine) February 19, 2018
Kevin Hart has forfeited the privilege of being brought on board inside carry on luggage…

— Peter Vecsey (@PeterVecsey1) February 19, 2018
2. Fergie's national anthem fail
While everyone in the stadium took their feet for both the Canadian and U.S. national anthems, Fergie's performance of the latter fell flat and left many rolling their eyes.
The Black Eyed Peas singer failed to inspire the audience to feel patriotic, as many swift social media users — including ESPN's Darren Rovell — captured unimpressed looks on the players' faces.
Players faces during Fergie's rendition of the National Anthem… pic.twitter.com/QQ3VXaBchT

— Darren Rovell (@darrenrovell) February 19, 2018
Leslie Jones even offered to step in next time.
Meanwhile back in the states… I leave for a couple of days and y'all lose your muthaf-cking mind!! Why did this happen? Not everyone supposed to do this y'all! You might as well should have ask me to sing. Wtf?!https://t.co/M7eIzgGBrk

— Leslie Jones ???? (@Lesdoggg) February 19, 2018
3. Riggle and Hart serve up a lukewarm warm-up
Before the flat intros, Hart and Rob Riggle did an awkward skit to kick off the show. Playing honorary coach, Riggle described Hart as "slow and short" when he said he wanted to play in the All-Star game. It then progressed to Hart pretending to have starred in famous movies such as "Lion King" and "Rocky."
The crowd seemed lost in many ways … and not just because they were looking for their seats before tip-off. Oh, and Jamie Foxx relived his "Django Unchained" with a Wild West-themed performance …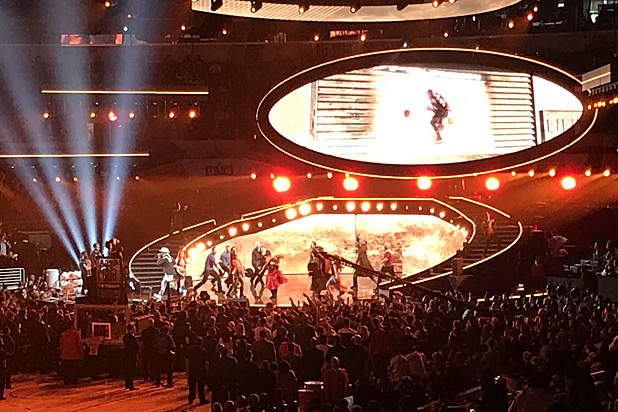 4. Queen Latifah adds some heat
Luckily, Queen Latifah was on hand to get things back on track. Her opening performance got plenty of screams — and not just because it showed video of shirtless LeBron and other players working out.
Also Read: Fergie 'Butchers' National Anthem at NBA All-Star Game, Kneels to Laugh
5. That was Anthony Davis again …
NBA All-Star games aren't known for their strong defensive performances. However, that didn't stop a number of fouls being called in the opening minutes of play — and some additional confustion. The in-house commentator kept getting players mixed up when it came to fouls. First he said it was LeBron James — nope, it was Anthony Davis. And when he said it was Kyrie Irving the next time, of course it was Anthony Davis again.
Also Read: 12 Best Slams in NBA All-Star Dunk Contest History, from Dr. J to MJ (Videos)
6. From flipping houses to bouncing in balls
"Property Brothers" stars Drew and Jonathan Scott took time off from the TV real estate business to hang at the All-Star game. After Drew played in the Celebrity Game on Friday, both siblings provided entertainment during a TV timeout by rolling around in giant inflatable hamster balls as they bashed into each other. We're not sure which identical twin was victorious, but it was the crowd who were the real winners.
Here's what you're missing during commercials at #NBAAllStar

Property Brothers fighting in giant fishbowls pic.twitter.com/TED4Km2vVZ

— Phil Murphy (@Phil_Sports) February 19, 2018
Also Read: 12 Best Slams in NBA All-Star Dunk Contest History, from Dr. J to MJ (Videos)
7. Hollywood hits the hardwood
Courtside at Lakers games used to be the place to spot stars — and Sunday night the Staples Centrer returned to that heyday. Spotted in the crowd and on the Jumbotron were Dave Chappelle, Anthony Anderson, Tracy Morgan, Diddy, Snoop Dogg, Andy Garcia, Ludacris and Jack Nicholson. And that's not even getting us started on who was tucked away in the stadium's many private VIP suites.
8. Shaq and Sir Charles live and in person
"Inside the NBA" viewers are used to seeing analysts Ernie Johnson, Charles Barkley, Kenny Smith and Shaquille O'Neal debate the hottest NBA action on TV, but on Sunday the talent were live in person as their set was specially constructed in L.A. Live across the street from Staples Center.
Fans got to see Shaq and Sir Charles in all their seven-foot glory as they headed to the stadium for the game.
9. He's back
Arnold Schwarzenegger is one of the few actors who doesn't looked dwarfed when he's surrounded by NBA players. The "Terminator" star somehow found his way onto the court during the post-game celebration and was spotting mingling with the teams, coaches and their families — beaming like an over-sized kid!
10. Hometown favorite
There was plenty of respect voiced for all the "Legendary Stars of the Game" when they were named during a special segment. But the crowd roared in the biggest applause of the night when former Lakers star Shaq was honored. In related news, where was Kobe?
11. LeBron is a father first, MVP second
Even after being named NBA All-Star MVP yet again, LeBron was focused on his adorable kids as he walked into the post-game press conference. He shielded his sons from the crowd of reporters and told then to sit on the stairs on the side of the stage while he talked to reporters.
Also Read: Fergie Responds to National Anthem Backlash: I 'Honestly Tried My Best' (Video)
12. Everyone is a winner
Usually the post-game press conference for a losing team is a somber affair, but no so after am NBA All-Star game that all the players agreed was a huge success. Kevin Durant had fun with one ESPN reporter who said the game felt quiet, "like a golf tournament."  "I don't know where you were sitting. You were probably sitting high up, you need to talk to ESPN about," Durant replied.
His Golden State Warriors teammate — but All-Star game opponent — Steph Curry was equally as cheery despite losing in the final seconds of the game. "It was a tough way for our team to lose but it was a great ending for the fans," he said during his jovial media session.
13. Walk, walk, walk, walk, walk
With thousands of fans flooding to downtown not just for the game but for all the events surrounding it from fan fests to Jack Daniels promotions, getting around L.A. Live involved a LOT of crowd-tackling. That wasn't made any easier by the explosion of barricades and temporary fences.
Even Lakers and Clippers season tickets holders got confused as their usual routes around the stadium were blocked (this reporter racked up an average of 20,000 steps on her FitBit each day!)