Local broadcasters honored for look at L.A. riots 20 years later and "Legends of Laurel Canyon"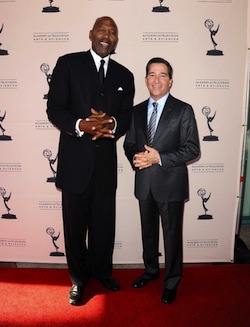 The 65th annual Los Angeles Emmy awards were handed out Saturday night. NBC4 won the most, with eight, while ABC7 followed closely behind with seven, including best Entertainment Programming for its "Eye on L.A. Presents: The Legends of Laurel Canyon."
The Governors Award went to Univision Los Angeles for its "Educate es el Momento" report.
The ceremony was held in the North Hollywood headquarters of the Academy of Television Arts and Sciences.
Also read: NBC4, ABC7 and KTLA5 Top L.A.-Area Emmy Awards
Here's the full list of winners:
SPORTS SERIES – NEWS: The London Olympics: SoCal Shines at Summer Games (NBC4)
CREATIVE TECHNICAL CRAFTS – ART DIRECTOR: David Weller (Time Warner Cable SportsNet)
CREATIVE TECHNICAL CRAFTS – LIGHTING DIRECTOR: Steve Mulkey (Time Warner Cable SportsNet)
LIVE SPECIAL EVENTS – NEWS: Shuttle Endeavour Comes Home (KTTV-TV)
OUTSTANDING EDITOR – NEWS: Jaime Sanchez (KVEA)
OUTSTANDING EDITOR – PROGRAMMING : Jeff MacIntyre (ABC7)
INVESTIGATIVE REPORTING – NEWS: Illegal Animal Traffickers: NBC4 News at 6, 9 and 11 – (NBC4)
NEWS SPECIAL: LA Riots: 20 Years Later (NBC4)
LIVE COVERAGE OF AN UNSCHEDULED NEWS EVENT: Newtown Connecticut Shooting (KTLA5)
SPORTS FEATURE: Pau Gasol at the Children's Hospital (Time Warner Cable SportsNet)
SPORTS TEASE: March Madness – There Can Only Be One (CBS2)
OUTSTANDING WRITER – NEWS: Daisy Lin (NBC4)
OUTSTANDING WRITER – PROGRAMMING : David Ono (ABC7)
SERIOUS NEWS STORY − SINGLE REPORT: Frankie's Fight for Freedom (NBC4)
SERIOUS NEWS STORY – MULTI-PART REPORT: Madres Deportadas (KMEX)
ARTS AND CULTURE/HISTORY: Eye On Our Community: The L.A. Riots – 20 Years Later (CBS2/KCAL9)
OUTSTANDING VIDEOGRAPHER – NEWS: Jason Roberts (KTLA5)
OUTSTANDING VIDEOGRAPHER – PROGRAMMING: Jeff MacIntyre (ABC7)
MEDICAL NEWS STORY − SINGLE REPORT: The Courage of Hana Hwang (KTTV-TV)
MEDICAL NEWS STORY – MULTI REPORT: Concussions: The Invisible Injury (KTLA5)
CRIME/SOCIAL ISSUES: The L.A. Riots: 20 Year Later (KTLA5)
L.A. LOCAL COLOR: Tony's L.A. (KTTV-TV)
CHILDREN/YOUTH PROGRAMMING: Imagine (ABC7)
OUTSTANDING NEWS FEATURE REPORTING: David Ono (ABC7)
ENTERTAINMENT PROGRAMMING: Eye on L.A. Presents: The Legends of Laurel Canton (ABC7)
SPORTS SERIES (PROGRAMMING): Dodgers Weekly (Prime Ticket)
SPORTS SPECIAL: Road To MLS Cup 2012 – Backstage: Galaxy (Time Warner Cable SportsNet)
PUBLIC, MUNICIPAL AND OPERATOR PRODUCED CABLE: Burbank's African Sister City (The Burbank Channel)
INFORMATIONAL/PUBLIC AFFAIRS SERIES (MORE THAN 50% REMOTE): Your Turn To Care (KCET)
INFORMATIONAL/PUBLIC AFFAIRS SERIES (MORE THAN 50% STUDIO-BASED): SoCal Connected (KCET)
SHORT PROMO: Univision 34 Investiga (KMEX/KFTR)
PUBLIC SERVICE ANNOUNCEMENT: Profiles of Hope (LA County Channel)
LIGHT NEWS STORY – SINGLE REPORT: The Prison Project – CBS2 News at 11 PM (CBS2)
LIGHT NEWS STORY – MULTI-PART REPORT: El Chalan de la Frontera – Noticias 11PM News (KMEX)
FEATURE SEGMENT: The App Economy: SoCal Connected (KCET)
INFORMATION SEGMENT: Your Money or Your Life: SoCal Connected (KCET)
GRAPHICS: John Hudson (Time Warner Cable SportsNet)
OUTSTANDING DIRECTOR – NEWS: Gayle Galvez (NBC4)
OUTSTANDING DIRECTOR – PROGRAMMING: Mike Maas (CBS2/KCAL9)
OUTSTANDING HARD NEWS REPORTING: Ana Garcia (NBC4) / David Ono (ABC7)
LIVE SPECIAL EVENTS – PROGRAMMING: Time Warner Cable Deportes Launch Show (Time Warner Cable Deportes)
LIVE SPORTS COVERAGE: Los Angeles Clippers Basketball (Prime Ticket)
OUTSTANDING SPORTS REPORTING: Michael Eaves (Fox Sports West)
REGULARLY SCHEDULED DAILY DAYTIME NEWSCAST: 11:00AM-7:00PM: NBC4 at 6 PM (NBC4)
REGULARLY SCHEDULED DAILY MORNING NEWSCAST: 4:00AM-11:00AM: KTLA5 News at 7 AM (KTLA5)
REGULARLY SCHEDULED DAILY EVENING NEWSCAST: 7:00PM-12:00AM: Noticias a las Once (KMEX)