It only took two episodes of "Little Big Shots" for NBC to declare it a winner.
The Ellen DeGeneres-produced game show series hosted by Steve Harvey has gotten an early pickup for Season 2, TheWrap learned Monday.
"We are both very excited because it got off to a great start, it's getting really, really lovely ratings … it's a family show so everyone can watch with their kids and we just found out today that it got picked up for another 13 episodes," Ellen DeGeneres said.
Also Read: Ratings: Steve Harvey's 'Little Big Shots' Scores Huge Premiere Behind 'The Voice'
Harvey is a guest on "The Ellen DeGeneres Show" Tuesday, and in a preview clip of the visit, he gushes to Ellen about how much fun he's having working with the future child stars.
"I like so many of the kids, man. I love kids because they just honest and they don't have publicists yet, so they don't know," he said.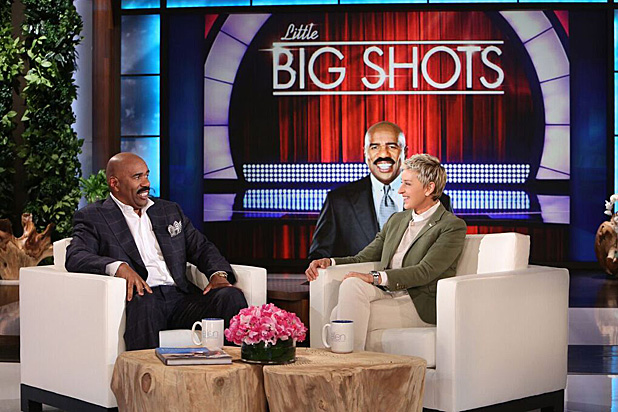 The instant hit series showcases young performers including musicians, singers and dancers. Host Harvey goes "toe-to-toe with them in conversations and interviews, with hilarious results," according to the NBC description.
Also Read: Watch the Worst 'Family Feud' Answer of All Time, According to Steve Harvey (Video)
"From pint-size break dancers to five-year-old piano virtuosos, these gifted performers will awe the nation with their talents, slay us with their cuteness and wow us with their accomplishments, proving once and for all that talent is born, not made."
The series scored a 2.8 rating/9 share in the advertiser-coveted 18-49 demographic Sunday night, and hauled in 14.8 million viewers overall. Last Tuesday, the series debut aired at 10 p.m., following two hours of the hit singing competition. Then, it grabbed a 2.9/10 and 12.7 million total viewers.
Also Read: Miss Colombia Clowns Steve Harvey on His Own Show: 'Learn How to Read' (Video)
"Congrats to both Steve and Ellen for bringing these adorable kids to our attention and watching them flourish," Paul Telegdy, NBC's president of alternative and late-night programming, said in a statement. "We couldn't be more excited about ordering a second season and having a national audience admire the remarkable feats of these exceptional children.
"'Little Big Shots' is that rare show that starts out as a good idea and then, somewhere along the way, turns into a bit of magic," he continued. "The incredible combination of Steve Harvey, Ellen DeGeneres and amazing kids is irresistible — fun, funny, and insanely family-friendly. I am incredibly proud of this production, and it's nice to see that the right alternative concept at the right time can still attract a huge audience."
"Little Big Shots" airs Sundays on NBC at 8/7c.
Watch video of Steve Harvey on "The Ellen DeGeneres Show" below.