By the time the red carpet starts getting set up on Hollywood Blvd. for this Sunday's Academy Awards, it's pretty clear which nominees are the critics' darlings and which ones have the best chance of getting recognized by the Academy voters.
But this year's Best Picture race is very, very different. While our annual survey of over 40 guild and critics awards shows clear favorites for the acting and directing categories, the picks for the top prize have been spread out across multiple contenders. As TheWrap's awards guru Steve Pond has noted, this is the most unpredictable Best Picture race in recent memory with a field that could see a horror movie, a directorial debut, or a sci-fi romance claim victory at the end of Oscar Sunday.
So far, the critics have favor "Get Out" and "Lady Bird," the two films made by the debuting directors in this year's race, Jordan Peele and Greta Grewig. Each of those films has 10 Best Picture wins, with the "Lady Bird" tally including the Golden Globe for Best Comedy.
Also Read: Oscar Predictions 2018: Will 'The Shape of Water' Rise to the Top in the Wildest Race in Years?
Behind them are Fox Searchlight's entrants in the Oscar race, "Three Billboards Outside Ebbing, Missouri," and "The Shape of Water," both with six wins each. But while "Get Out" and "Lady Bird" got their wins mostly from critics, these two pictures picked up major guild victories. "Three Billboards" won Best Drama at the Golden Globes and the top prize at the BAFTAs, while "The Shape of Water" won the top prize at the Producers Guild Awards.
In last year's awards survey, "Moonlight" and "La La Land" each a total of 34 Best Picture wins heading into the big night, more than the top four in this year's poll combined. "Call Me By Your Name," "Dunkirk," "Phantom Thread," "The Post" and even the snubbed A24 film "The Florida Project" showed up on this year's tally.
Also Read: What Should Sufjan Stevens Wear to the Oscars? We Have Ideas (Photos)
In the individual races, the picture is more clear. Guillermo Del Toro is widely expected to win Best Director this Sunday after winning the top prize at the Directors Guild Awards, an award that has gone to the eventual Oscar winner for 13 of the last 14 years. And he's picked up a total of 13 directing prizes this season, more than any other contender
However, critics did show a lot for "Lady Bird" writer-director Greta Gerwig (eight awards), while Jordan Peele ("Get Out") was recognized by many critics circles who offered awards for first-time filmmakers.
It's a similar case for the Best Actor competition, where Timothée Chalamet's quiet but emotional performance in "Call Me by Your Name" earned some critical love with 10 wins, but Gary Oldman remains the clear favorite with 16.
Oldman's performance as Winston Churchill in "Darkest Hour" has earned him the SAG Award, Golden Globe, and BAFTA for Best Actor, and with those wins, Oscar Sunday is expected by prognosticators to be a coronation for an actor who wrapped up this race months ago.
Similarly, Frances McDormand is expected to win the Best Actress competition for her angry performance as Mildred Hayes in "Three Billboards." Like Oldman, she pulled off the SAG/BAFTA/Globe treble, making her the favorite.
However, the critics really love Sally Hawkins' performance as a mute in "The Shape of Water," pushing her to a tie with McDormand in our tally at 14 pre-Oscar prizes. Hawkins won honors from the National Society of Film Critics, as well as critics circles in Boston, Dallas, Houston, and Los Angeles. Saoirse Ronan, who won a Golden Globe for her "Lady Bird" role, was in third with nine wins.
Also Read: How 'Lady Bird' Star Saoirse Ronan Grew Up (and Got Off Twitter)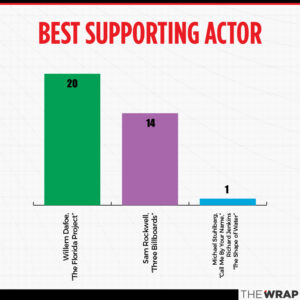 The same split between the critics and the awards that predict the Oscars can be seen in the supporting categories. Sam Rockwell, the favorite to win Best Supporting Actor for his hotly debated performance as the racist Officer Dixon in "Three Billboards," has picked up a total of 14 prizes so far.
However, "The Florida Project" star Willem Dafoe has actually picked up more prizes this season — 20, including critics circle victories in Boston, Chicago, Austin and New York.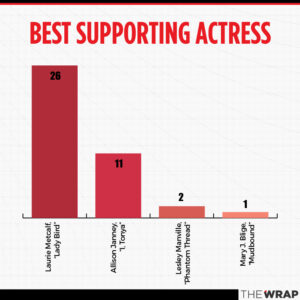 Finally, in Best Supporting Actress, Allison Janey won the SAG, BAFTA, and Globe by playing Tonya Harding's horrific mother LaVona in "I, Tonya," but it is Laurie Metcalf and her performance opposite Saoirse Ronan in "Lady Bird" that has been the critics' overwhelming pick.
Metcalf has outscored Janney 26 wins to 11, including honors by the NSFC.