After winning a championship, athletes go to Disney World. After the Academy Awards, nearly all of the top Oscar winners went to the Vanity Fair party Sunday night. (Mo'nique was the lone exception.)
All four acting winners — Sandra Bullock, Jeff Bridges, Christoph Waltz and Mo'Nique — stopped off at the Governors Ball upstairs at the Kodak before spanning out across town.
Bridges next hit the Fox party at Boulevard 3, where the vanquished James Cameron made a belated arrival. Later in the night, Bridges would see
his co-winners again at the Sunset Tower Hotel where a cornucopia of VF guests including Serena Williams, Tom Hanks, Neil Patrick Harris and Jennifer Lopez awaited. (Photos at Sunset Tower, courtesy of Getty Images.) Jeremy Renner's arrival drew applause.
Even Elton John abandoned his own mega-watt bash a mile away to make the scene, but only after auctioning off a pair of tickets to join him. A private donor paid $130,000 for the party privileges.
Other quick takes from the Sunset Tower Scene:
Party organizers place guests in "tiers" who are allowed to arrive only at certain hours — at 10 p.m., 10:30 p.m. and 11 p.m. last night.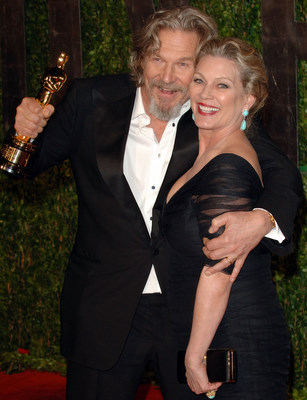 For someone whose promptness and meeting etiquette has been called into question in the past, former NBC co-chair Ben Silverman attempted to arrive at 9:40 pm, nearly a full hour before his 10:30 invitation. After some quick verbal negotiations, he was anointed an early entry. By comparison, agent Ari Emanuel had a 10 p.m. invite. (Emanuel arrived solo.)
After an extended tour in Haiti, CNN's Anderson Cooper arrived during the tea-time daylight hours for publisher Graydon Carter's telecast-watching/dinner party.
As the arrivals got crowded around 11 p.m., telecast co-host Alec Baldwin cut the long line of arrivals at limo check-in. Instead he drove past the two checkpoints and stuck his head out the passenger side window, "Ace Ventura" style, while the car was still moving to signal security guards. They opened up the street barricade to let Baldwin's SUV cut in front of Samuel L. Jackson and others.
Around that same time, Diddy, known as much for his cable reality shows as his music, had his own West Hollywood sheriff's security detail waiting for him outside. The only other "friends" of the un-Vanity Fair-esque reality genre who made the cut were "Big Brother" host Julie Chen and reality interloper Jerry Seinfeld (NBC's "The Marriage Ref").
This year, Sean Penn at least walked the red carpet, though he didn't pose. Last year he ducked in through the rear loading dock of the hotel.
Adewale Akinnuoye-Agbaje (Mr. Eko on "Lost") would have been happy to use any entrance after being denied access. On the way in to the bash, he met a longtime colleague in person for the first time –composer Michael Giacchino, Original Score winner for "Up" and "Lost."
Giacchino thanked Akinnuoye-Agbaje for giving him the inspiration to write "some of my most beautiful music ever." The golden composer then turned around, flashed his statue to the guards and left the former Mr. Eko making cell phone calls on the street for a greenlight that never arrived.