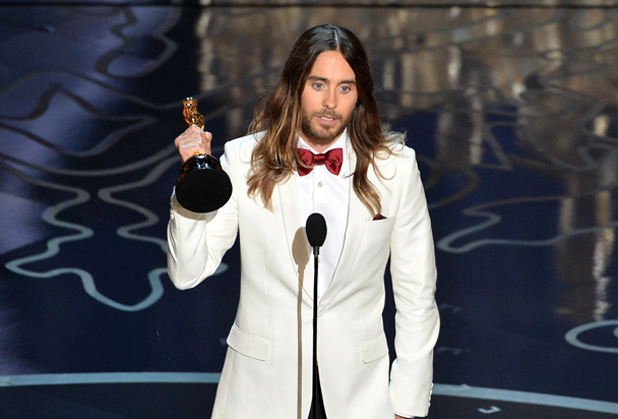 Best Supporting Actor winner Jared Leto invited members of the press to touch his Oscar Sunday night and to take selfies with the statue.
"If you have swine flu, please don't touch it," the "Dallas Buyers Club" star said as he handed his award over to a crowd of journalists. "Who's your favorite Oscar winner tonight?" he asked.
Also read: Oscars: The Complete Winners and Nominees List (Updating Live)
However, a media handler quickly stepped in to say that anyone reaching for their cellphones to take snapshots with Leto's Golden Guy should think again.
No photography was allowed in the press room.
"If you guys want to get the media, let the media do what they do… Viva la revolution, baby!" Leto said to loud applause.
See photos: Oscars Red Carpet Arrivals (Photos)
The Oscar winner said he lived just a mile away from the ceremony and invited press to come over after the show.
"I'm going to be celebrating until the break of dawn… look me in the eyes and see that I will revel tonight," Leto said. "And thanks for getting my Oscar dirty with your fingerprints," he said before exiting stage left.