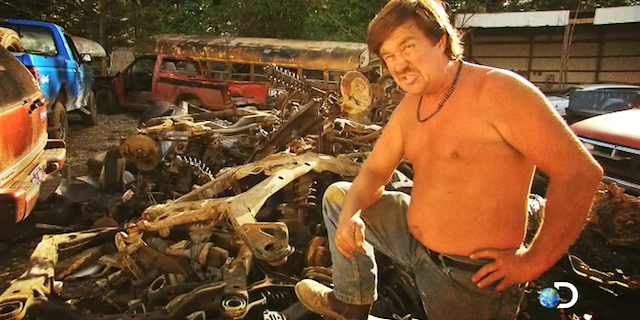 Discovery may have hit pay dirt with the cast of colorful characters on "Porter Ridge," its new series from the producers of A&E's hit "Ducky Dynasty."
This time, Gurney Productions heads to the Indiana hills to capture the life and times of Terry Porter, owner of Country Auto Parts, an automobile junkyard. Along with his friends and employees, Porter lives for the next race, repo and get-rich-quick idea. He has to stay on his toes or get one-upped by his rivals from neighboring Dog Killer Ridge.
There are no cops, no city hall, no mayor, so you can imagine what these folks get away with. Did we mention they have an affinity for bears?
Also read: The South Rises Again … on Cable
Premiering Aug. 13 at 10:30 p.m., "Porter Ridge" is executive-produced by Scott and Deirdre Gurney with co-executive producers Todd Hurvitz, Doug Weitzbuch and Brandon Killian.
Here's Discovery's descriptions for the rest of the cast; watch TheWrap's exclusive preview below:
JEFF – The Bear Man, has lived on the Ridge almost 20 years with a backyard full of bears. He has eight, truffle hunting, Brown Bears as companions. Jeff treats his bears like family, and has a genuine affection for these powerful animals. Unfortunately, the other guys on the Ridge don't always have the same love for these 1,500-pound beasts.
DIRTY ANDY – The Scrappy Scrapper, Dirty Andy is a renowned hustler on the ridge. Always looking for a way to make a buck, he and Terry don't always see eye-to-eye when it comes to doing deals. Whether it's an old lawnmower or a rusty trampoline, there is nothing that Dirty Andy can't turn to cash. He may look like Santa Claus, but this heavy-set hilljack definitely doesn't smell like Christmas.
KAYLA- A local ridge girl herself, this country calendar model may look like the sexy girl next door but she is as feisty as they come and negotiates with the best of them. While she's supposed to be selling parts, Kayla ends up spending most of her days trying to keep Terry from sinking his business like the Titanic.
Also read: The 20 Most-Watched Cable Shows
DANNY BOB – The most longstanding employee of Country Auto, a whiz with a blowtorch, and one of Terry's closest friends. He's a no-nonsense, wisecracking, ex-Army, guy who can fix just about anything with an engine. Danny Bob also has a handful of ex-wives in his past, including one he married twice – which he says is the definition of "stupid."
ELVIS LARRY – The local garbage man, and jack-of-all-trades on the ridge, this Elvis look-alike is a good-natured momma's boy and an unlikely source of wisdom at times. He will clean your gutters or fix your tractor and knows all the gossip that's fit to tell.
BARRY – A former tree-climbing and national clogging champion, Barry Moore is everyone's buddy. He's a cool character who rarely gets ruffled and prides himself on his quick wit and first class mullet.
RUSTY – Rusty learned from the best, since he's the 13-year-old son of Terry, and around these parts he's the face of trouble as he's often up to no good. He has every kid's dream life where instead of Matchbox cars, he gets to drive a full size lifter and crush actual automobiles.
Also read: Discovery's 'Shark Week' Tops Itself: 11 New Episodes, Adds Late-Night Talk Show
DOG KILLER RIDGE – The rivals from the next ridge over, the men of Dog Killer Ridge only have one thing in common with what they feel are their inferior neighbors on Porter Ridge, the need for speed in a hunk of junk. They might only live a few miles away, but they are worlds apart. They feel it's their God-given responsibility to let the Porter Ridge clan know at every opportunity just who is top dog around these parts – DKR (Dog Killer Ridge).