"Valerian and the City of a Thousand Planets" stars Rihanna and Cara Delevingne certainly looked the part when they walked the red carpet at the movie's premiere at the TCL Chinese Theatre in Hollywood Monday night.
With Rihanna playing a shapeshifting entertainer called Bubble and Delevingne as space-and-time-traveling agent Sergeant Laureline, they could hardly of worn little black dresses to celebrate the opening of Luc Besson's epic sci-fi adventure.
Also Read: 'Valerian' Reviews Range From 'Mind-Meltingly Beautiful' to 'Dramatically Clunky'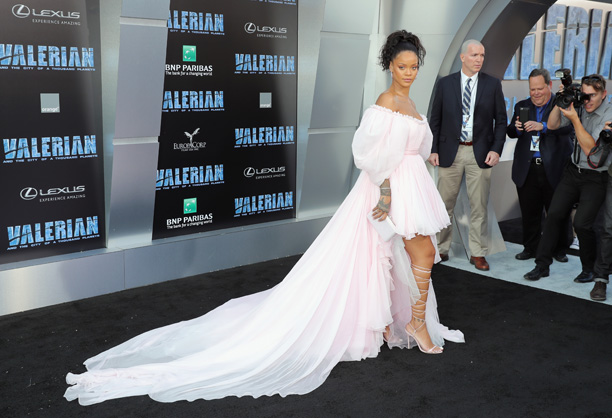 Instead, Rihanna opted for bubble-gum pink silk and taffeta and lace-up heels for an intergalactic gothic look, while Delevingne was "Blade Runner"-esque in a figure-hugging metallic gown and old Hollywood finger waves that looked like they'd been painted on.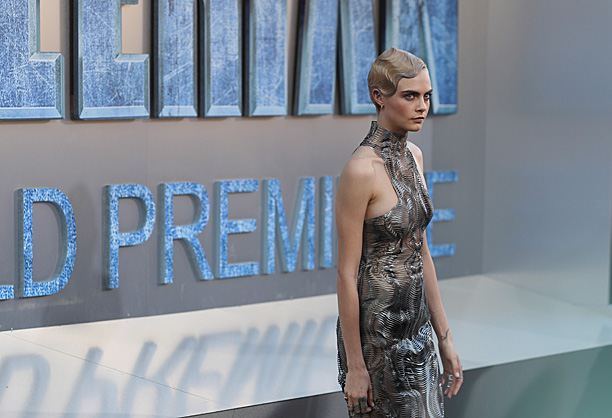 Also Read: 'Valerian and the City of a Thousand Planets' Review: Luc Besson's Loony Space Saga Is Gorgeous Nonsense
Written and directed by Besson and co-produced by Besson and Virginie Besson-Silla, the dazzling movie is based on the French science fiction comics series "Valérian and Laureline," written by Pierre Christin and illustrated by Jean-Claude Mézières.
It also stars Dane DeHaan, Clive Owen, Ethan Hawke, Rutger Hauer, Kris Wu and John Goodman.
While she doesn't appear in the movie, model/it girl/spokesperson faux pas Kendall Jenner also dazzled on the red carpet at the historic Chinese Theater.
"Valerian" has certainly garnered attention in the weeks running up to its release, with reviews ranging from saying it is "like getting slapped in the ass with a bedazzled lawn gnome," to it being called a childish film "full of ridiculous alien creatures, hammy human performances and characters as deep as strip of celluloid."
Also Read: 'Valerian' First Look: Really Dazzling, Really Dopey
TheWrap's Alonso Duralde dubbed it a "loony space saga" that is "gorgeous nonsense."
"It's bonkers and gorgeous and confusing and thrilling and tiring and overflowing with ideas," he said in his review.
Decide for yourself when "Valerian and the City of a Thousand Planets" opens on July 21.