Rihanna called out Snapchat for its "ignorance" on Thursday morning, after an advertisement made light of her being a victim of domestic assault.
An ad for "Would You Rather?" a smartphone game, asked users "would you rather slap Rihanna or punch Chris Brown" earlier this week.
In a message on her Instagram account, Rihanna criticized Snapchat for allowing the ad to go live.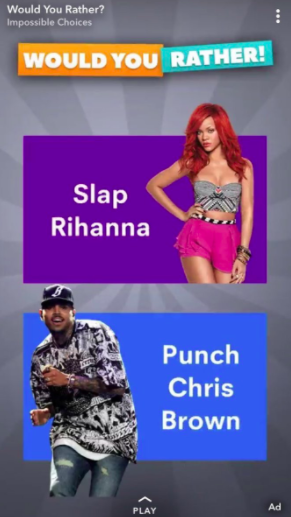 Also Read: Lawsuit Says ESPN Employees Asked Aloud What Rihanna 'Tastes Like,' 'Openly' Watched Porn
"I'd love to call it ignorance, but I know you ain't that dumb! You spent money to animate something that would intentionally bring shame to [domestic violence] victims and made a joke of it!!!" said Rihanna.
The pop star was notoriously hospitalized in 2009 after being assaulted by then-boyfriend Chris Brown.
Snap Inc., Snapchat's parent company, pulled the ad down and apologized on Monday, saying in a statement the ad had went live "in error."
Rihanna didn't accept the apology on Thursday, however, adding: "You let us down! Shame on you. Throw the whole app-oligy away."
Also Read: 'Ocean's 8' Teaser: Is George Clooney's Character Dead? (Video)
In a statement to TheWrap on Thursday, a spokesperson for Snap said: "This advertisement is disgusting and never should have appeared on our service. We are so sorry we made the terrible mistake of allowing it through our review process. We are investigating how that happened so that we can make sure it never happens again."
Snap said the ad was purchased through its self-serve ad platform, and the game maker has been blocked from the app moving forward.
Read Rihanna's full message below:
Snap's stock was hit hard in early trading on Thursday morning, coinciding with Rihanna's post. Shares of Snap dropped 4.6 percent to about $17 a share.
It's the second time in less than a month that a major celebrity has called out Snapchat on social media, after Kylie Jenner tweeted she wasn't a fan of the app's new redesign in late February.