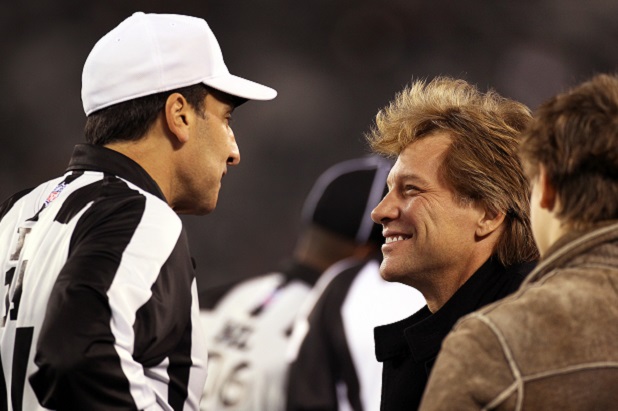 Rocker Jon Bon Jovi is huddling up with NFL officials and may be ready to take a run at buying the Buffalo Bills pro football team.
The Bills will go on the market when current owner Ralph Wilson passes and Bon Jovi, according to CBS Sports, has spent considerable time in the area getting to know politicians and power brokers and even added a date there late in a recent tour to allow for more time to allocate to a potential bid for the team.
Bon Jovi, a good friend of New England Patriots coach Bill Belichik and owner Robert Kraft, has been very proactive in meeting NFL owners and general managers, and is seeking their input on all sort of issues related to football. In the past he has nearly become a minority owner of a team, most notably the Falcons, and is the founder and majority owner of the Philadelphia Soul of the Arena Football League.
Also read: Former NFL Pro Bowl Player and NBC Broadcaster Todd Christensen Dead at 57
NFL teams are expensive, but Bon Jovi certainly isn't hurting for money. The group Bon Jovi ranked third in Forbes Magazine's list of annual earnings for musical acts, with $79 million dollars. And in move the report said was partially tied to his NFL bid, he recently fired guitarist and longtime musical partner Richie Sambora to free up cash for a potential deal.
Rogers Communications Group, which already works closely with the team for several "home" games in Toronto, remains the front-runners when the team goes up for sale, the report said.