Shane Acker, Oscar nominee for his 2005 short '9,' will direct an adaptation of the Dark Horse Comics series "Beasts of Burden" for Reel FX, the company announced on Wednesday.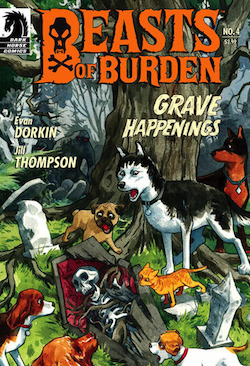 Evan Dorkin and Jill Thompson created the comics series, which chronicles a group of animals, mostly dogs, that function as the protectors of a town stricken by paranormal events. Darren Lemke, who wrote "Shrek Forever After," will adapt the comics while Reel FX's Aron Warner will produce alongside Dark Horse Entertainment's Mike Richardson and Strange Weather's Andrew Adamson.
Acker made his first feature in 2009 with "9," which was based on his award-winning short and produced by Tim Burton.
"It's a pleasure to be working with such accomplished producers and filmmakers on this incredible project," Acker said in a statement. "There is a real independent spirit at Reel FX — the studio is full of energy and fresh ideas — which is necessary to bring this unique story to life."
Reel FX, a Dallas-based design, visual-effects and animation studio, has been ramping up its feature film division over the past few years. It is already at work on the Guillermo Del Toro-produced "The Book of Life," which Fox will release in 2014, and "Turkeys," which Relativity will release before Thanksgiving in 2014.
It recently hired Warner, who produced the "Shrek" franchise, to lead the company's charge into feature animation. Reel FX aims to make mid-budget animated movies for whichever studio offers the best fit, though in the case of "Beasts" no studio has come aboard yet.
"Reel FX is continuing to partner with some of the leading filmmakers in animation," Warner said in a statement. "Shane is an immense talent and will bring his fresh vision and approach to this adaptation of 'Beasts of Burden.'"