Sony announced on Thursday that it was dropping its claim against Greg and Colin Strause for having allegedly stolen special effects from "Battle: Los Angeles" for their lower-cost movie, "Skyline."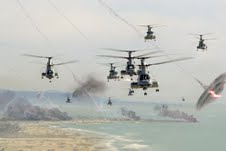 In a statement to TheWrap, Sony wrote that "SPE was satisfied its special effects were not used in 'Skyline.'"
The Strause brothers run Hydraulx Entertainment, a special-effects company that created the effects for the big-budget "Battle: Los Angeles," which opened last weekend to $36 million.
In a separate project, the brothers produced and directed "Skyline," with a much lower budget, but a remarkably similar plot-line and look — about an alien invasion of Los Angeles.
The Strause brothers told TheWrap that there was no merit to the complaint. Sony now appears to agree with them — especially now that the movie is a hit.
The studio released this complete statement:
Sony Pictures Entertainment announced today that it has dismissed its arbitration against visual effects company Hydraulx Entertainment and its principals, brothers Greg and Colin Strause. The suit arose from Hydraulx creating visual effects for SPE's "Battle: Los Angeles," while at the same time providing special effects on the Strause brothers' own alien invasion of Los Angeles themed picture, "Skyline," which was released in November 2010.  SPE had received information that visual effects from "Battle: Los Angeles" had been used on "Skyline," but after the discovery phase of the arbitration, SPE was satisfied its special effects were not used in "Skyline."
In a statement, SPE's President of Production and Studio Operations, Gary Martin, said Hydraulx created outstanding special effects for "Battle:  Los Angeles."
Greg and Colin Strause stated, "We're glad to put this behind us.  We've been honored to work on several wonderful SPE projects in the past and look forward to future collaborations." In addition, to "Battle: Los Angeles," the Strause brothers and their companies have provided special effects for SPE on "2012" and "The Social Network." Sony Pictures Classics recently acquired the film, "Take Shelter," executive produced by Greg and Colin Strause and for which Hydraulx did the special effects.
"Battle:  Los Angeles" was released March 11.