There are few events in the sports world more thrilling than Game 7 of the Stanley Cup Finals, and the NHL more than delivered on Wednesday night with the winner-take-all matchup between the Boston Bruins and the St. Louis Blues.
The Finals Game 7 phenomena hadn't happened since 2011 when the Bruins defeated the Vancouver Canucks, and Bostonians weren't going to miss the chance to see their team attempt to join the New England Patriots and Boston Red Sox as reigning champions.
Of course, now we know that those dreams were squashed by the Blues, who won 4-1 to clinch their first-ever Stanley Cup victory in franchise history.
Also Read: St Louis Blues Beat Boston Bruins to Win First-Ever Stanley Cup
While the Game 7 aired live on NBC, TheWrap was at the TD Garden to share everything you couldn't see on TV before playoffs MVP Ryan O'Reilly hoisted the hardware.
Day-long fan frenzy
Up to five hours before the game began at 8 p.m. ET, thousands of Bruins supporters filled the streets outside of the TD Garden, creating a sea of black and gold and clogging up the city's already grid-locked streets. In true Boston fashion, some wicked smart fans figured the best way to beat traffic was by hitting a local sports bar mid-afternoon.
Red Sox support
The Boston Red Sox moved their game against the Texas Rangers to earlier in the day so fans — and players — could watch both. The Sox even changed the scoreboard on the Green Monster to "We Want the Cup." The Sox pulled off their own win at least, beating the Rangers 4-3.
MOOD pic.twitter.com/fghVQR25y1

— Boston Red Sox (@RedSox) June 12, 2019
"Let's goooooooo"
The sold-out arena of 17,565 people was losing its mind before the puck was even dropped when historic — and often — bloody hockey highlights aired on the jumbotron to the chants of "Let's go Bruins!" They weren't quite as nice to the Blues when their players' names were announced to an echo of boos.
Garden gets lit
The Garden was anything but green as ticket-holders found LED bracelets under their seats to light up in a coordinated show of gold flickers. It then switched to red, white and blue during the singing of the national anthem by Todd Angilly, who does double duty at the Garden as a bartender on the suites level.
Heading to the #NHLBruins game tonight? Make sure to get there early and put on the LED wristband that will be located at your seat to be a part of the light show. pic.twitter.com/X1Qy3PyRRz

— Boston Bruins (@NHLBruins) June 12, 2019
Also Read: John Krasinski Fuels 'The Office' Hockey Feud Goading Jenna Fischer Before Stanley Cup Game 7 (Video)
"The Office" feud continues …
Bruins fan John Krasinski had a special message for former on-screen wife/Blues supporter Jenna Fischer before the game … and it involved Pam's ex-fiance Roy Anderson.
"Jenna Fischer, I know we've been having our ups and downs recently but I am really sorry you're not here … this was your seat here and I was really bummed you couldn't make it," Krasinski said before the camera panned back to show who he was actually sat next to. Spoiler alert: Fischer had the last laugh.
View this post on Instagram
Bizarre fan costumes
Boston's mascot is Blades the Bruin and there were plenty of bear outfits on show in the stadium — plus Vikings, women in team PJs, and some very strange face-paint. Was this a Stanley Cup Finals game or WWE Wrestlemania?
Boston Strong
Patriots wide receiver Julian Edelman cheered on the Bruins and pledged his support for Red Sox legend David Ortiz at the same time by wearing a Red Sox jersey over his Bruins shirt, once again daring doubters to "Bet against us!" Banners and shirts proclaiming "Big Papi for President" were also spotted in the crowd as the three-time World Series champion recovers from Sunday's shooting in the Dominican Republic.
Also Read: John Krasinski Fuels 'The Office' Hockey Feud Goading Jenna Fischer Before Stanley Cup Game 7 (Video)
View this post on Instagram
Party like a Gronk star
Edelman's former teammate Rob Gronkowski got the largest cheer of the night, however, and the Garden exploded when he was shown on the jumbotron in a Bruins David Pastrňák jersey with his brother Gordie, dad, "Papa Gronk," and girlfriend Sports Illustrated model, Camille Kostek. Gronkowski may be retired from football, but he still knows how to party. His former boss was also in the crowd, as Patriots' team owner Robert Kraft, who was shown rooting for another home-team championship.
Hollywood in the house
Aside from "The Office" crew, the Garden was like a whos-who in Hollywood with celebrity hockey fans Michael J. Fox, Tom Colicchio, Denis Leary and Andy Cohen all in attendance.
And the crowd goes … silent
How do you shut up thousands of Boston fans? Beat their team in a championship game in their own arena. Despite a third period goal adding a glimmer of hope to Bruins fans, the Blues defense kept the Boston puck out of the net all night and led St. Louis to a 4-1 win. As the clock ticked to zero the arena was eerily silent aside from a few hundred rabid Blues fans in attendance cheering wildly. It didn't stay quiet for long, however, as the Blues' victory song "Gloria" was soon blasting out as silver and blue confetti fell from the roof. Oddly, two small birds were also spotted flying down below the press box (it is not known if they were actually bluebirds).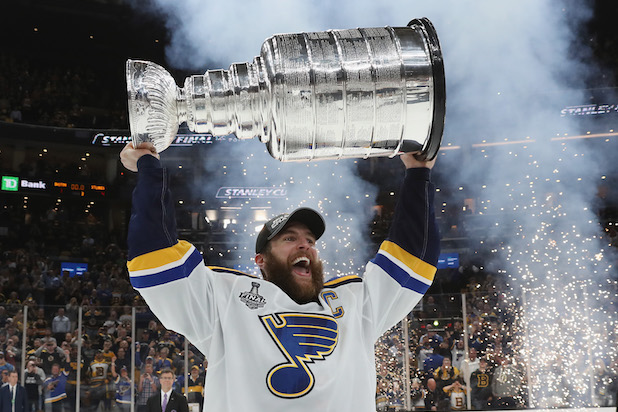 Also Read: Historic St Louis Blues Stanley Cup Win Scores Highest NHL Overnight Rating Ever
Andy Cohen takes to the ice — very carefully
Who knew the Bravo star was such a huge hockey fan? Following the official Stanley Cup presentation by NHL commissioner Gary Bettman, the jubilant Blues players were joined on the ice by select media, family members and friends, which surprisingly included the "Watch What Happens Live" host. Cohen gushed as he carefully walked out onto the frozen floor of the Garden with a Blues flag in his back pocket and a can of Blue Moon beer in one hand.
When asked by TheWrap if it was the best night of his life, Cohen reminded us that he's "just had a son … but it's up there. It is unbelievable, it is a euphoric rollercoaster of emotion. To be here in Boston in the middle of the freakin' Garden — it happened, it was a really dramatic, exciting game," he said, almost at a loss for words.
Blues' good luck charm kisses the Cup
Blues superfan Laila Anderson, who is battling a life-threatening autoimmune disease, has become known as the team's good-luck charm throughout their miraculous playoff run. The crowd literally parted when she came out for the on-ice celebration and Blues defenseman Colton Parayko knelt onto the ice to meet her. Anderson, 11, wiped away tears, then held on and kissed the Stanley Cup. "Laila! We did it, princess!" winger Pat Maroon could be heard telling her.