"Star Wars: The Force Awakens" is about to become a $5 billion jewel in Disney's crown, proving the value of a series of bold moves by CEO Robert Iger that separated the studio from the industry pack and changed the course of Hollywood history.
In 2006, with the U.S. on the verge of the Great Recession, Iger and Disney began spending big as most of their media rivals went into duck-and-cover mode. As the nation's economy went into financial crisis for three years, Iger allied with Apple Inc. and acquired the Steve Jobs-led Pixar Animation Studios ($7.4 billion).  In 2009, he acquired Marvel Studios ($4 billion) and finally in 2012, Lucasfilm ($4 billion), the "Star Wars" rights held by George Lucas (photo below).
"When the rest of the industry was tightening its belt and pulling back, Disney had the guts and foresight to go the other way, and we're seeing the result of that today and we will be seeing it into the next decade," said an executive at a rival studio.
Also Read: Disney Has Record Fiscal Year, Earnings Meet Expectations in Q4
In hindsight, the deals for the companies behind "Toy Story" (Pixar), the "Avengers" movies (Marvel) and "Star Wars" (Lucasfilm) seem like slam dunks, but in fact were anything but.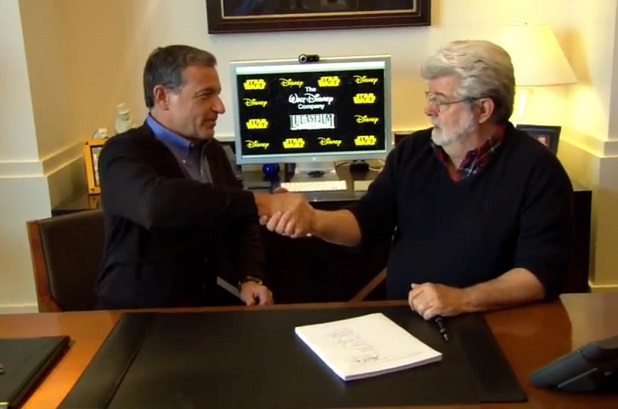 Iger was criticized for overpaying after each of the deals, and the success that makes the acquistions look so smart now was by no means guaranteed. Rupert Murdoch's News Corp. was similarly aggressive, but its 2006 deal for MySpace was a bust and its 2007 acquisition of Dow Jones & Co. resulted in an $8 billion write down the following year.
Iger and Disney not only had the nerve to buck its rivals and the recession headwinds, they had the know-how and merchandising and theme park machinery in place to maximize the returns on their investments.
Today, Disney stands atop the heap in Hollywood and among its corporate rivals. Its stock was trading at around $112 per share Thursday, nearly double that of its closest rival Time Warner Inc.. Its ESPN-led cable units, the biggest revenue generator, are currently taking a hit from cord-cutters and that will force Disney to diversify further. But Iger's aggressive recession-era buying spree has positioned its merchandising and theme park units — Shanghai Disney will open early next year — to balance that out.
Also Read: Will the Force Be With Disney's $4B 'Star Wars' Gamble?
In terms of Hollywood, Disney is positioned to dominate for the next decade. Fox has three "Avatar" epics rolling out in successive years starting in 2017, but no studio can match the arsenal of franchises now controlled by the Mouse House.
In addition to the Pixar, Marvel and Lucasfilm deals, Disney under Iger has turned two film initiatives into franchises that will drive its merchandising efforts for years.
Disney Animation blossomed under the leadership of former Pixar chief John Lasseter and in 2014 rolled out the tale of two princess sisters, "Frozen." In September, it supplanted Pixar's "Toy Story 3" as the highest-grossing animated film in history with $1.27 billion. At roughly the same time, Disney went to its vault and produced live-action hit features "Alice in Wonderland," the Sleeping Beauty tale "Maleficent" and "Cinderella' — all like "Frozen" targeting young girls, as will the upcoming "Beauty and the Beast" and "Little Mermaid." This year's Pixar's  blockbuster "Inside Out" was another hit.
Also Read: Fairy Tales Invade Theaters: Hollywood's New Superheroes?
Marvel, Pixar and its homegrown animation and fairy tale films drove the film unit to an operating profit margin of 21 percent in fiscal 2014 and that has risen to 27 percent in the first half of this year. And all of that box-office-fueled "princess power" has dove-tailed into a merchandising monster. Consumers have "Let It Go" to the tune of $4 billion on "Frozen" merchandise for each of the past two years — and a sequel is in the works.
"We create products that extend the storytelling — the emotional connection that the consumer has when they're seeing the film carries on in the three-dimensional world," Josh Silverman, the executive vice-president for global licensing, said in a recent update on merchandising revenue.
Like no other studio, Disney has proven capable of leveraging its box office hits into franchises, TV shows via ABC and a Netflix deal, and in turn major merchandising and theme park returns. Marvel movies have generated $9 billion in box office since 2007, and that's just a start. With new hits "Guardians of the Galaxy" and "Ant-Man" driving Phase 3 of its "cinematic universe," Disney has two Marvel releases scheduled every year through 2019.
And now, Disney has brought Han Solo, Luke Skywalker and Co. back into America's cultural consciousness. After setting records for advance sales, trailer views and social media engagement, "The Force Awakens" is poised to record the biggest movie opening ever, despite debuting in the challenging holiday corridor.
Also Read: Disney Stock Slips on Eve of 'Star Wars: The Force Awakens' Wide Release
"Remember, before 'Star Wars,' you didn't really hear about action figures based on movie heroes," Exhibitor Relations analyst Jeff Bock told TheWrap. "You didn't hear about fan boys, either."
You do now, and you will for years to come, and chances are it will be in reference to a Disney movie.
Analysts say merchandising and licensing revenue from "The Force Awakens" will nearly double the studio's share of the global box office, which could well top $2.5 billion globally. It's the first part of a trilogy of films, and there are two spinoffs in the works already and more on the drawing board, meaning the Mouse House's marketing, merchandising and theme park machines will have fuel for years to come.
"Do you think it's a coincidence that the heroine of this new 'Star Wars' trilogy is a young girl?" asked Bock.